Not applicable
Mark as New

Bookmark

Subscribe

Mute
Hey All I have an enigma to solve.
I am trying to add data from a CSV file that has NO lat, long information.
The file does however have a reference number (PropID) that is in a layer (Taxlots) I already bring into the MapViewer attached to my WebApp.
What previously worked in the past was that you could add data to the WebApp utilizing the ADD DATA widget, then utilizing the ANALYSIS we could join the TABLE to the other TABLE and bam, my data would have spatial location for a fraction of the credits for geolocating based on address.
My issues lies in the fact that my table with no spatial location WON'T show up in the Analysis tool.
The layer properly shows up in my TOC as a table with no location data associated, I can open the attribute table and see my data.

However when I open the Analysis Tool and click Join, I can see my taxlots just fine, but my TABLE refuses to show up and be present as an option to join off of, though it is clearly been added to my layers.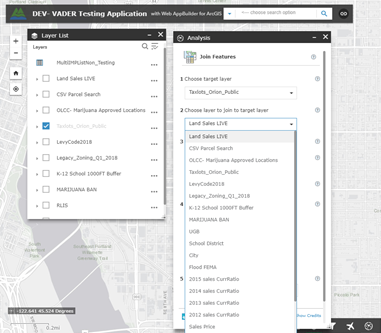 Anyone know how to get this done without burning through credits as if they pay for themselves?!
I have a layer (taxlots) that contains all my PropID codes and has spatial location & I just need to join the CSV to it, but it must be through the WebApp not the Map behind the application... the CSV files change daily and I have many users that want to see just their PropID accounts on a map.
---ESRI says this about adding CSV data ---- Add a CSV file that doesn't contain location information to Map Viewer as a table. This is useful when you want to join nonspatial data—for example, property information —to spatial data such as a Taxlot layer using the Join Features analysis tool.----Thus why I am having a hard time understanding why this won't work.
Hoping someone might have a work around solution for me, my users keep everything by account number, they won't ever have Lat/Long so being able to quickly add a table and then join it to existing data is a big function.
0 Replies