Regular Contributor
Mark as New

Bookmark

Subscribe

Mute
Hi S123 Team,
This is a long shot but I'd thought I'd ask to see if it's possible.
We currently have a question on each page of our Survey123 form, we would like to number the title of the questions with the page numbers. Is this possible?
Since we're using URL parameters to hide and show different questions based on the survey parameter (aka test number- essentially randomizing it in short) we can't simply title the Label using 1,2,3 etc. Example below- see 76: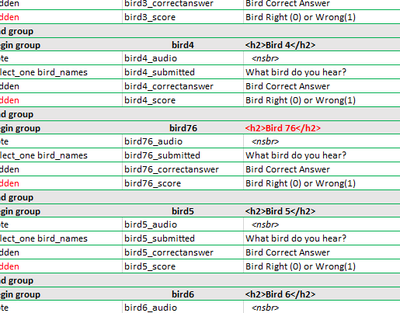 Thanks so much for any creative ideas!
Amanda
1 Reply

Occasional Contributor III
Mark as New

Bookmark

Subscribe

Mute
Hello @Amanda__Huber ,
I have tried to do a similar operation with a survey having numbered questions under a cascading list or just a list of fields to fill. The warning I get is that field names cannot begin with a number and cannot be identical to pre-existing field names. It relates to both database and coding constraints of the application and coding used to build Survey123 from my understanding. One way to get around this is to use alias names in the field names while keeping the names as you had them, eg bird76 or bird5, but under the circumstances I am not sure how exactly you could use alias names and display them as you need coming from field names. My project is ongoing so I am eager to see the answer to your question and this discussion, hopefully this info helps a bit to narrow down your search.
Kind regards & God bless,
Jansen Lyons
Jansen Lyons - Records and GIS Section - Public Works - City of Rio Rancho, NM