New Contributor
Mark as New

Bookmark

Subscribe

Mute
I am trying to use an if then statement with an 'and' included and a pulldata. The data I am using is GSA's per diem rates. I have a 'select one' for location (county), and a begin and end date in Survey123 form. I have also concatenated the two date columns but not sure this is necessary.
What I am trying to do is pull the lodging and MI&E rates into the form, so once a location is selected (county) it then gives the options for the 'SEASON BEGIN' and SEASON END' columns. In the case of Kootenai, there would be three options, once that is chosen it fills in the Lodging and MI&E fields.
If 'Kootenai' and 'begin' and 'end date' are this, then lodging and MI&E rates are this.

I have seen examples with if then statements and nesting but nothing that adds 'and' or multiple columns the way I need it to. I would really like to keep this as a pulldata and not enter it into the form because it will be updated every year and I would rather update the spreadsheet then the Survey123 form.
Any ideas, suggestions, help would be greatly appreciated. Thanks in advance.
2 Solutions

Esri Notable Contributor
Mark as New

Bookmark

Subscribe

Mute
Are you looking for something like this?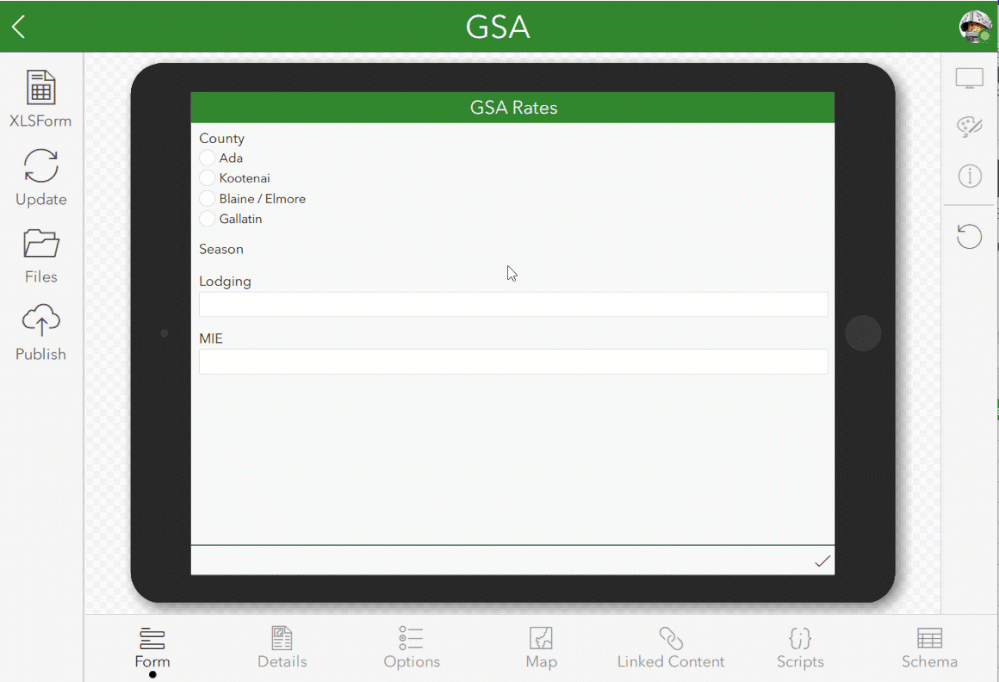 If so, check the attached XLSForm and associated media files.
In short:
A cascading select (choice filter) to display the seasons according to the county
A pulldata to retrieve the rates

New Contributor
Mark as New

Bookmark

Subscribe

Mute
Ah, I see what the issue is!
Under name column, all names should be unique. You have fish as the name for around 30 rows. This is attempting to place "fish" for all field names and in turn.
Your pulldata statement is attempting to pull the value for the field 'fish". Once you change each to a unique name, you will be able to use your pulldata statement for each group with the corresponding name used to replace subsequent "fish".
8 Replies