New Contributor II
Mark as New

Bookmark

Subscribe

Mute

Email to a Friend
This is likely in the realm of minutia, but I've been unable to find any explicit information (and I need to explain this to others!):
What is the difference between the flashing "double-circle" icon versus the solid state "single-circle" icon (that appears after touching the flashing icon) in the Survey123 field app map button OR in taking a photo? I'm sure it has something to do with location accuracy and/or location averaging, but again, I cannot find any detailed explanation for its use.
I've attached BEFORE touching and AFTER touching screenshots for (hopefully) greater clarity ;)
Thank you VERY much!
Susan
2 Replies

Esri Notable Contributor
Mark as New

Bookmark

Subscribe

Mute

Email to a Friend
Hi. Good question!
The flashing double circle indicates that the application is waiting for your device to provide a location. When the location is set, the icon changes to solid style.
To illustrate the idea to people, open a survey in the Survey123 field app. While looking at the map in the survey, you may see the icon flash immediately after the survey loads. This means that the survey is trying to get and set the location from your device at the time when the form was opened. Once the location is fixed, the style will be solid.
Next tap on the location icon to request a new location. You will see it change momentarily to flashing with double circle. Next, to make it more obvious tap and hold the location icon. This will put the app in GPS averaging mode. While in averaging mode, the app is constantly asking for new locations from your device and averaging all the locations. This will keep the location icon fixed on flashing mode. Tap again the location icon to stop averaging.
While you cannot average positions while in camera mode, the meaning of the location style icon is the same. If it fixed, you have a location, if flashing, the app is trying to get a location. If you plan on using the location of your photo, it is important for people to understand the meaning of the location icon while in camera mode. Note that since sometimes people move while the camera dialog is open, the location icon at the top allows the end user to set the time when the location of the photo should be set. More on using photo locations at: https://community.esri.com/groups/survey123/blog/2017/12/12/working-with-exif-image-metadata-in-surv... and also at https://community.esri.com/groups/survey123/blog/2020/08/07/survey123-tricks-of-the-trade-photos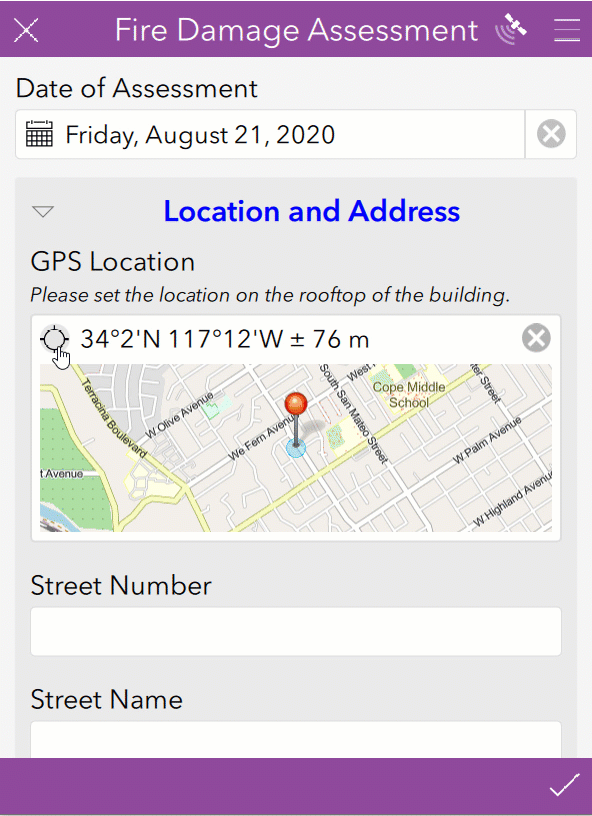 New Contributor II
Mark as New

Bookmark

Subscribe

Mute

Email to a Friend
Dear Ismael,
Thank you so much for this VERY comprehensive reply -- as well as the additional references!
All the best,
Susan