Occasional Contributor
Mark as New

Bookmark

Subscribe

Mute
I have hit a new issue with 3.14 where an select_one appearance autocomplete from an external choice list inside a repeat in a survey from the Inbox will show the proper label for the first record in the repeat, but shows the name for the subsequent records in the repeat. It highlights the name in red italics to indicate a wrong entry, but it is not an error and behind the scene everything keep working including other lookups related to the name. As a work around for this survey I pull the label based on the name below so the user knows what they are selecting... Or you can turn off autocomplete. Screen below are record 1 of the repeat followed by record 2 of the repeat. I have this issue in roughly 60 surveys. Thanks, Larry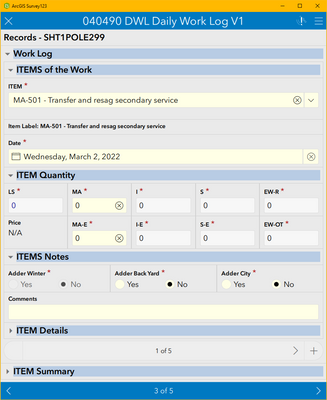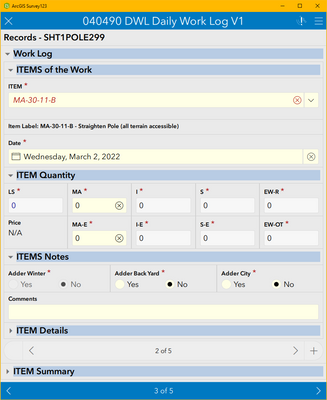 3 Replies

Not applicable
Mark as New

Bookmark

Subscribe

Mute
Hi @LarryWiebe.
Can you please provide the XLSForm (xlsx file and any media/scripts files) for the survey being used? Also any exact steps to reproduce the problem, ie does this happen when collecting new surveys, editing existing surveys etc.
We can then take a look to understand the problem you are seeing.
Regards,
Phil.

Occasional Contributor
Mark as New

Bookmark

Subscribe

Mute
Hi Phil,
Attached is a very basic form that will demonstrate the issue I'm having... Although, I tried to create this completely in 3.14, I could not get it to work publishing from Connect 3.14. So I published in 3.13 and the used the 3.14 Windows and iOS clients to test the issue...
To recreate:
publish the survey with Inbox enabled
populate a record with more than 1 entries in the repeat and Send the survey
open the survey from the Inbox and step to the second repeat record, the name will be displayed in red instead of the label for the Photo Type.
Let me know if there is more I can help with to figure this out...
Thanks, Larry

Esri Regular Contributor
Mark as New

Bookmark

Subscribe

Mute
Hello @LarryWiebe,
Thank you for passing along the XLSForm! I've tested on our end and am able to reproduce the behavior. I've gone ahead and logged an internal issue for the behavior. Please feel free to reach out to Esri Technical Support and they will be able to assist with creating an official BUG for the issue.
Thank you,
Zach