New Contributor III
Mark as New

Bookmark

Subscribe

Mute
Hi, I created my App a year ago and it was working great. Just opened it for our next season of data collection and one section is not displaying properly. It is a 'repeat' section and will not display across the entire screen, only in the first column, shown below. Even though I have 'w8' in the appearance column, area highlighted in yellow does not display properly.
Disclaimer: I'm a biologist so don't know the technical terms but App worked great for our first season of data collection.
Any help would be greatly appreciated.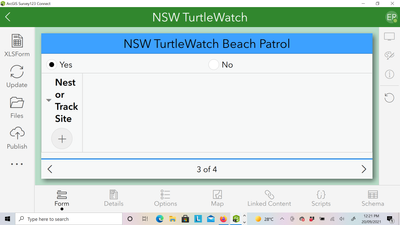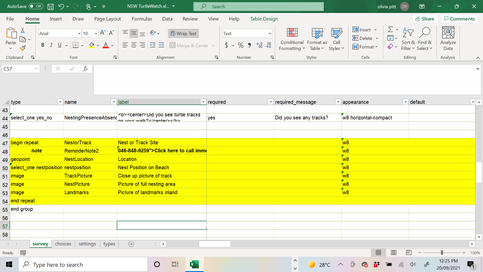 2 Solutions

Not applicable
Mark as New

Bookmark

Subscribe

Mute
Hi @EmilyRayner,
I have reviewed your XLSForm and replied via email with suggested changes.
Phil.

Not applicable
Mark as New

Bookmark

Subscribe

Mute
Hi @IFI,
The key part from the blog post is that nested groups or repeats now always only take up 1 column:
As for the number of columns used to render the group or repeat within the parent group, it will be one. That is, a group or repeat always takes one single column from the containing group.
Therefore with your survey (from the screenshots) you need to set the parent page to w1 (the group that has field-list on it) and then put another nested group directly inside it with w2 (underneath the page group). This will create a group that takes up the entire w1 row, but then has two columns in it for your lat and long questions next to each other that are w1 each. Close that group before the repeat. The repeat group will then take up the entire row as they always now fill 1 column, which the parent is set to. But if you want more than one column in the repeat, set the w appearance accordingly on the repeat.
Hope this helps. We are also working on a future enhancement to be able to set two values on a nested group or repeat, one value that tells it how many columns to consume from the parent, and one value that set how many columns to create in the group/repeat. This will make it much more flexible and easier to configure in the XLSForm and require less nested group to achieve the same thing. Keep an eye out on the Early Adopter Community for an update on this enhancement.
Regards,
Phil.
20 Replies