Regular Contributor
Mark as New

Bookmark

Subscribe

Mute

Email to a Friend
Hi Survey123 for ArcGIS‌ Team,
We recently opened a support case (Case #02545733) regarding an issue found with the S123 Web configuration for "What Can Submitter Do".
When "Only Add New Records" is selected the Data tab breaks and shows an obscure error message: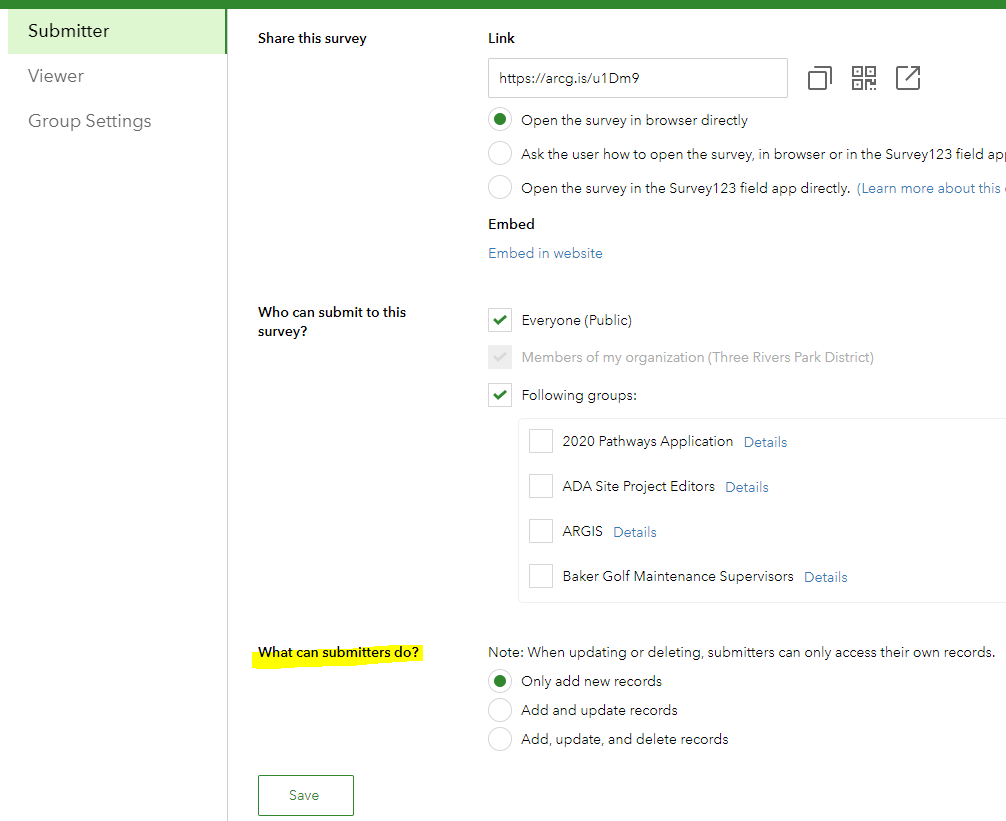 This issue appears to be related to a bug that was previously logged- #BUG-000119154 as a "known limitation" but turns out to be much more than a small limitation- Unfortunately this issue does not only affect submitters of the data but also Owners of the data. Therefore the setting "What can Submitters do" should be rephrased at least as "What can owners, submitters, and users querying the data do".
This limitation is not just for users who this setting pertains to but also the owners of the survey- making the data tab completely "broken" for survey owners.The setting "What Can Submitter Do" should not reflect on settings for a survey owner.
If someone could take another look at this functionality and it's constraints for survey administrators as well as the unclear functionalities of this setting that would be much appreciated.
Thanks!
- Amanda
2 Replies

by
JamesTedrick

Esri Esteemed Contributor
Mark as New

Bookmark

Subscribe

Mute

Email to a Friend
Hi Amanda,
Unfortunately, there is a conflict with the behavior of the table widget in the Data tab and the settings - even though you, as the owner, have full access to the feature service, this is not picked up when the table loads. Could you ask the support analyst to separate this from BUG-000119154 and deal specifically with the case of a survey owner asking (the BUG cited is for a more general access, which would be dependent on which view has been shared).

Regular Contributor
Mark as New

Bookmark

Subscribe

Mute

Email to a Friend
Hi James,
Thanks for the quick reply- no problem I'll send that request their way.
Thanks!