New Contributor III
Mark as New

Bookmark

Subscribe

Mute
Hello
I am running into a very strange occurrence where questions using a choice_filter are showing the same choice list over and over. All users on Android, Apple and Windows field apps are experiencing this problem. We do not utilize the web app. Here are some screenshots showing what is being experienced.
Top of list in Picture #1


Start of same list a second time in Picture #2. Notice "Open hole" appears again.
In this instance, the entire list repeats 4x.


Screenshot of spreadsheet

Screenshot of choice list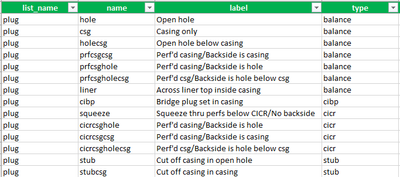 In this case, the choice_filter "type" used was balance.
From what I can tell based on my experience and others, the list replicates each time a survey is submitted. The problem goes away when deleting the survey off the device and re-downloading it. Does anyone have any idea what would cause this and has anyone else ever experienced it? I have searched for days and have had no luck. I will add, this is the only survey that experiences this problem, so I am sure it has to do with how I have things setup.
This is a unique survey where I had to be creative, possibly too creative, causing said replication. If anyone needs additional information, please feel free to ask. Thank you for your time.

Bill
1 Solution

Esri Regular Contributor
Mark as New

Bookmark

Subscribe

Mute
Hello @RalphPlummer,
This behavior has been logged as BUG-000144684, one workaround would be to migrate choice lists that have over 250 choices to external CSV's and use select_x_from_file.
Thank you,
Zach
4 Replies