New Contributor II
Mark as New

Bookmark

Subscribe

Mute

Email to a Friend
I'm having trouble with pre-populating default answers in Survey123. I am creating a survey using Connect v3.11 with an existing feature service with domains in ArcGIS Online. The users will be in the office, so they will be accessing S123 web using a URL from a web app builder app. Everything works correctly in the Connect display and when I open a new blank survey. However, when I use it as intended and open the S123 web form from an existing feature on my web app, none of the default answers are pre-populated and some of the questions show a Recalculate icon underneath them. This is the URL I'm using in the map popup to open S123 (I cant share it due to customer confidentiality): https://survey123.arcgis.com/share/d791e6278e4649e3a1829e7f0fb85e2b?mode=edit&globalId={globalid}
For context, users are entering utility meter attributes to an existing customer meter point. I'm unable to share everything due to confidentiality, but here are some examples as well as my worksheet:
These two questions should have default answers prepopulated (rows 21-22 in excel spreadsheet). I'm not sure if this makes a difference, but the Calculation row is being used later in row 24 to reference the 'Is This a Meterless Riser' question.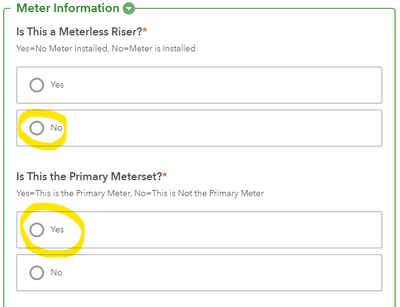 'Riser Type' (row 39) is a Select One that has a pulldata expression in the Calculation column. It will only populate if the Recalculate icon is clicked. And 'Is There a Second Riser?'(row 40) should default to 'No'.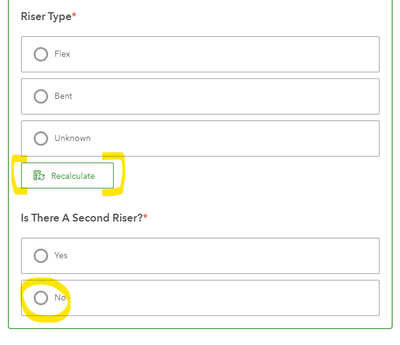 This question of 'Audit Yes/No' (row 175) is not referenced anywhere else and the default of 'No' does not populate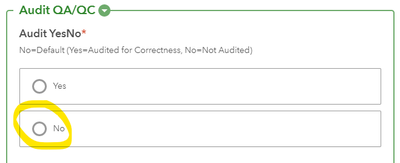 One last example :) The 'Date Survey Completed' (row 17) is set with a Calculation of 'now() ' but it also stays blank until 'Recalculate' is clicked. This same question set up worked fine in the S123 field app, but it looks like this in the web survey.

Thank you for any and all assistance, I really appreciate it!
Melissa
1 Solution

Esri Notable Contributor
Mark as New

Bookmark

Subscribe

Mute

Email to a Friend
4 Replies