New Contributor III
Mark as New

Bookmark

Subscribe

Mute

Email to a Friend
Hi,
I would like to do a calculation in Survey123 XLSForm, using the Excel formula Sumproduct, how can I use/apply this formula in Survey123?
any alternative?
SUMPRODUCT is a function in Excel that multiplies range of cells or arrays and returns the sum of products. It first multiplies then adds the values of the input arrays. It is a 'Math/Trig Function'
1 Solution

Esri Notable Contributor
Mark as New

Bookmark

Subscribe

Mute

Email to a Friend
Hi Federico,
Yes this is easily possible using Survey123 and xlsform expressions. We also support a sum() function for repeats to do exactly what you are trying to achieve. Please see the relevant documentation here for more information: Formulas—Survey123 for ArcGIS | Documentation and Repeats—Survey123 for ArcGIS | Documentation.
Based on what you described above, I created a quick survey in Connect to achieve what you after and got the same results when I entered the values you provided. One thing to consider is are you using a repeat to enter the 8 different sets of values, which means you need to have a related table to the parent table to collect those observation values multiple times over for the same question? Or do you want everything to only be in one flat table? In the second case you have to repeat the area and dry matter questions 8 times, and give each set of questions a unique name.
So I went ahead and created the following survey (see attached xlsx form) using a repeat, and this would be the most suitable way to design the survey and workflow you described from my point of view: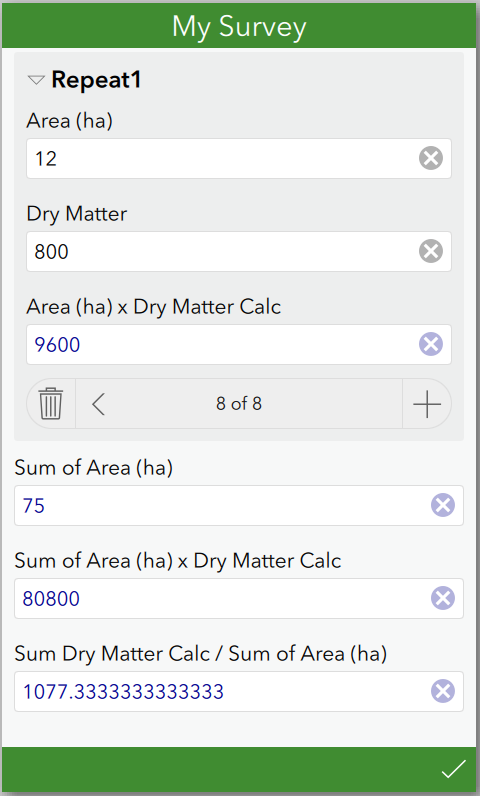 Hope this helps.
Regards,
Phil.
4 Replies