Occasional Contributor III
Mark as New

Bookmark

Subscribe

Mute

Email to a Friend
Hi all, I'm having an issue with my Survey123 survey published using the "ArcGIS Survey123 XLSForm Template - Advanced" version 3.11 revised 22 September 2020.
I have a question type "file" to accept file submissions, in this case I am looking for PDFs and Word docs. I created the survey originally in the web version and was able to restrict the file types.
Once I then saved using Connect, it seems the file type is no longer controlled for. But even worse, is Chrome will not accept or allow Word docs as an acceptable file type.
Here is a screenshot of the accepted file types in Firefox... which is all types: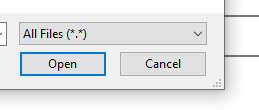 Here is my same survey in Chrome... lots of file types, but no .doc or .docx:

Unfortunately my survey is intended for an older audience, so I can't simply suggest they must use Firefox in order to submit Word Docs.
If I create a new Survey in the web and then open it in Survey123, I have a field "body::mediatype" to explicitly specify file types. However I don't have this same field available in the Advanced template.

Any suggestions please?
Thank you
2 Replies

by
DougBrowning

MVP Notable Contributor
Mark as New

Bookmark

Subscribe

Mute

Email to a Friend

Occasional Contributor III
Mark as New

Bookmark

Subscribe

Mute

Email to a Friend
I couldn't find anything existing about this, so thank you Doug for posting that. It helps to know it's been identified and observed as an issue. Unfortunately, my senior audience will have a difficult time with the "All Files" requirement. I'll post in the link you suggested asking for an update. Thank you