New Contributor II
Mark as New

Bookmark

Subscribe

Mute
Our agency is utilizing Survey123 Connect to record compliance data. There are places in the survey where the data entrant utilizes model language to explain the given score (e.g., "An adopted FY[yy] budget was not provided before the [mm/dd/yy] documents deadline.").
I have been asked if it is possible to autofill model language into the text box that can then be modified by the user (e.g., "An adopted FY22 budget was not provided before the 06/30/2021 documents deadline.") so that they don't have to retype the model language in its entirety. Complicating the matter, which model language is utilized is dependent on what score the entity received, so what autofills into the box has to be different depending on selections from one or more select_one responses earlier in the survey.
Is there a good way to achieve this in Survey123 connect?
1 Solution

by
jcarlson

MVP Esteemed Contributor
Mark as New

Bookmark

Subscribe

Mute
This one looks pretty straightforward. The constraints on Budget Status come from the preceding questions, but the model language looks like it is 1:1 with the total choices available in Budget Status, right?
In that case, you could have an external CSV with the 12 possible choices in Budget Status and bring it in with a pulldata. But since it's such a small list, you could also handle this with a hidden select_one.
Now, getting additional values into that model language would require some concatenation of other questions / calculations. But it's doable. Try to break it up into chunks whenever possible so as to avoid a gigantic IF expression, as those can be a little hard to keep organized.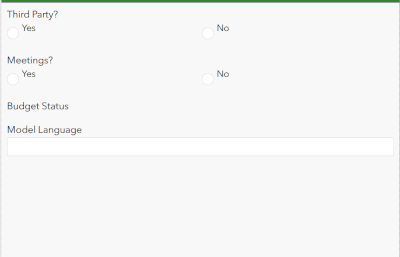 Here's the workbook:
| | | | | | |
| --- | --- | --- | --- | --- | --- |
| type | name | label | appearance | calculation | choice_filter |
| select_one yes_no | third_party | Third Party? | horizontal | | |
| select_one yes_no | meetings | Meetings? | horizontal | | |
| select_one budget | budget_status | Budget Status | | | third_party = ${third_party} and meetings = ${meetings} |
| select_one language_code | language_code | lang code | hidden | ${budget_status} | |
| text | model_language | Model Language | | jr:choice-name(${budget_status}, '${language_code}') | |
And under the Choices sheet:
| | | | | |
| --- | --- | --- | --- | --- |
| list_name | name | label | third_party | meetings |
| yes_no | yes | Yes | | |
| yes_no | no | No | | |
| | | | | |
| budget | 0 | No Budget | no | yes |
| budget | 1 | Budget is adopted, but is not being implemented | no | yes |
| budget | 2 | Budget is adopted and implemented, but not listed as a separate enterprise budget | no | yes |
| budget | 3 | Budget is adopted, implemented, and listed as a separate enterprise | no | yes |
| budget | 4 | Neither the entity nor the manager have adopted a budget | yes | yes |
| budget | 5 | Either the entity or manager has adopted a budget, but it is not being implemented | yes | yes |
| budget | 6 | Either the entity or manager has adopted and implemented a budget, but the other has not | yes | yes |
| budget | 7 | Both the entity and manager have adopted and implemented budgets | yes | yes |
| budget | 8 | The entity has not adopted a budget | no | no |
| budget | 9 | The entity has adopted a budget, but it is not being implemented | no | no |
| budget | 10 | Neither the entity nor the manager have adopted a budget | yes | no |
| budget | 11 | Either the entity or the manager have adopted a budget, but it is not being implemented | yes | no |
| | | | | |
| language_code | 0 | Model language for the first choice. | | |
| language_code | 1 | Some othermodel language for the second choice. | | |
| language_code | 2 | Etc. | | |
| language_code | 3 | Fourth Choice. | | |
| language_code | 4 | More model language, fifth choice. | | |
| language_code | 5 | Number 6. | | |
| language_code | 6 | And so on | | |
| language_code | 7 | And so forth | | |
| language_code | 8 | and another choice | | |
| language_code | 9 | third to last | | |
| language_code | 10 | second to last | | |
| language_code | 11 | last | | |
- Josh Carlson
Kendall County GIS
11 Replies