New Contributor II
Mark as New

Bookmark

Subscribe

Mute
I have made a public survey in multiple languages in Survey123 Connect. I followed the steps to make sure the survey would be secure: https://community.esri.com/t5/arcgis-survey123-blog/securing-data-in-public-surveys-survey123-connec...
However, at the last minute, we have decided there are three more questions we would like to add. I already made the Feature Layer Views, so I get the error "Unable to add feature service layer definition. Code: 4000 [ "Not supported. Columns cannot be added to view services." ] in Connect when I try to publish the survey again.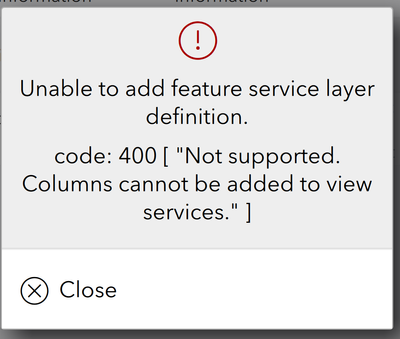 Is there anyway to add the questions to this survey without making a new link? I know I could republish and just copy the XLSForm and use it to publish a new survey, but it would be preferable to use the existing link. Let me know what you think I should do.
Thank you!
-Karl
3 Replies

Esri Regular Contributor
Mark as New

Bookmark

Subscribe

Mute
Hello @Karl_Reinhardt,
If you add the fields to the parent feature service they should then come through in the view. From there you should be able to publish the survey as the schema will match.
Thank you,
Zach

New Contributor
Mark as New

Bookmark

Subscribe

Mute
Hello @ZacharySutherby . Can you share exactly how this comes through in views created from the parent feature service? Though the option was provided to add the new fields to the Stakeholder view created through Survey123 website > Collaborate > Share Results, that option was not available for other views that had been manually created from the parent feature service.

The Stakeholder view definition could be updated through Settings > Update View where I was allowed to check in the added fields that were not previously there. When I went into other views to do the same thing, those views did not recognize that new fields have been added and had the same field count prior to the additions.

Thank you

Esri Regular Contributor
Mark as New

Bookmark

Subscribe

Mute
Hello @james_appsoils,
You may need to update the parent feature services definition to set the property 'propagateVisibleFields' to 'true'.

Setting this property to true should display the newly added fields in the view. Please refer to this document for information on updating a services definition.
Thank you,
Zach