Mark as New

Mark as Read

Bookmark

Subscribe
The Survey123 Early Adopter Community (EAC) helps you access the latest Beta builds of the software. You can sign in with your existing Esri account and gain access to software downloads, documentation on upcoming features and discussion forums.
We have just updated EAC with new Beta versions of Survey123. You can test the Survey123 website, web app, field app and Survey123 Connect across all supported platforms. Below is a list of some of the Beta features available for testing:
As a general rule, we prefer feedback regarding our Beta releases through the Early Adopter Community Forums. We like to keep discussions in GeoNet for the released version of the software. Keeping things separate avoids potential confusion.
One question, many photos
Configure image questions in your Survey123 forms to allow end users to associate multiple photos with it. Below is a screenshot of Survey123 designer, showing the new options we added to give you more control.

If using Survey123 Connect, you can now apply the multiline appearance to your image questions to support capturing multiple photos. You can also use XLSForm functions such as count-selected() against image questions in your calculations, constraint and relevant columns. This allows you to do things like: store the photo count as a GIS attribute along with the record, force users to take a minimum and a maximum of photos, etc.
We want to make this feature available in our July update. Waiting for your last word! More info for Connect users here, and for designer here.
Map enhancements in Survey123 Connect
Survey123 Connect now lets you easily configure maps in your survey so you can use your own web maps, mobile map packages, offline map areas, etc. You can also use extended XLSForm syntax to control exactly what each of the maps in your survey will show. A new Linked Content section allows you to browser for existing maps in your organization, so end users of your survey can easily access them from the app.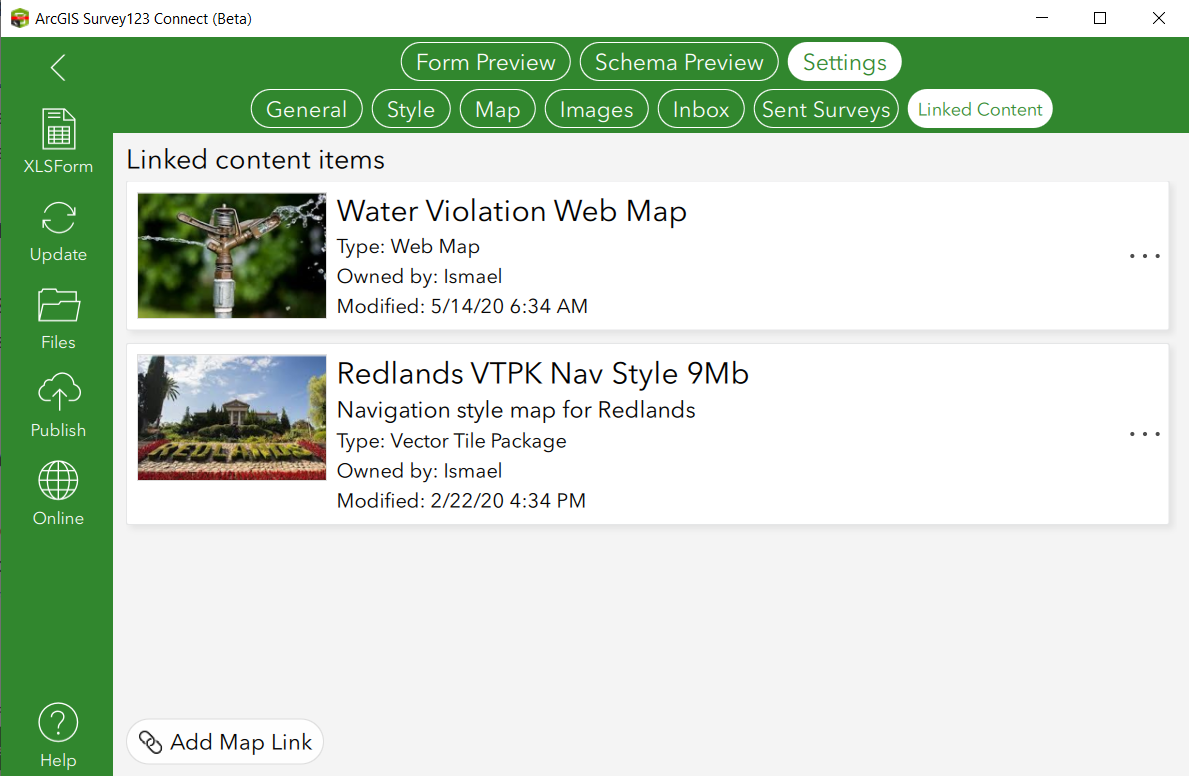 All of this may already be somewhat familiar to you because the released software has this feature flagged as Beta.
Your feedback is important now more than ever as this is ready to be shipping in July. Learn about this feature and more mapping enhancements here.
Survey123 organizational settings
A collection of Survey123 organizational settings can now be controlled by ArcGIS administrators. Use them to help users and Survey123 authors be more effective and bring consistency to your organization. You can access these settings from the Survey123 website when you are logged with a user with administration privileges. As shown in the screenshot below, there are a number of settings available.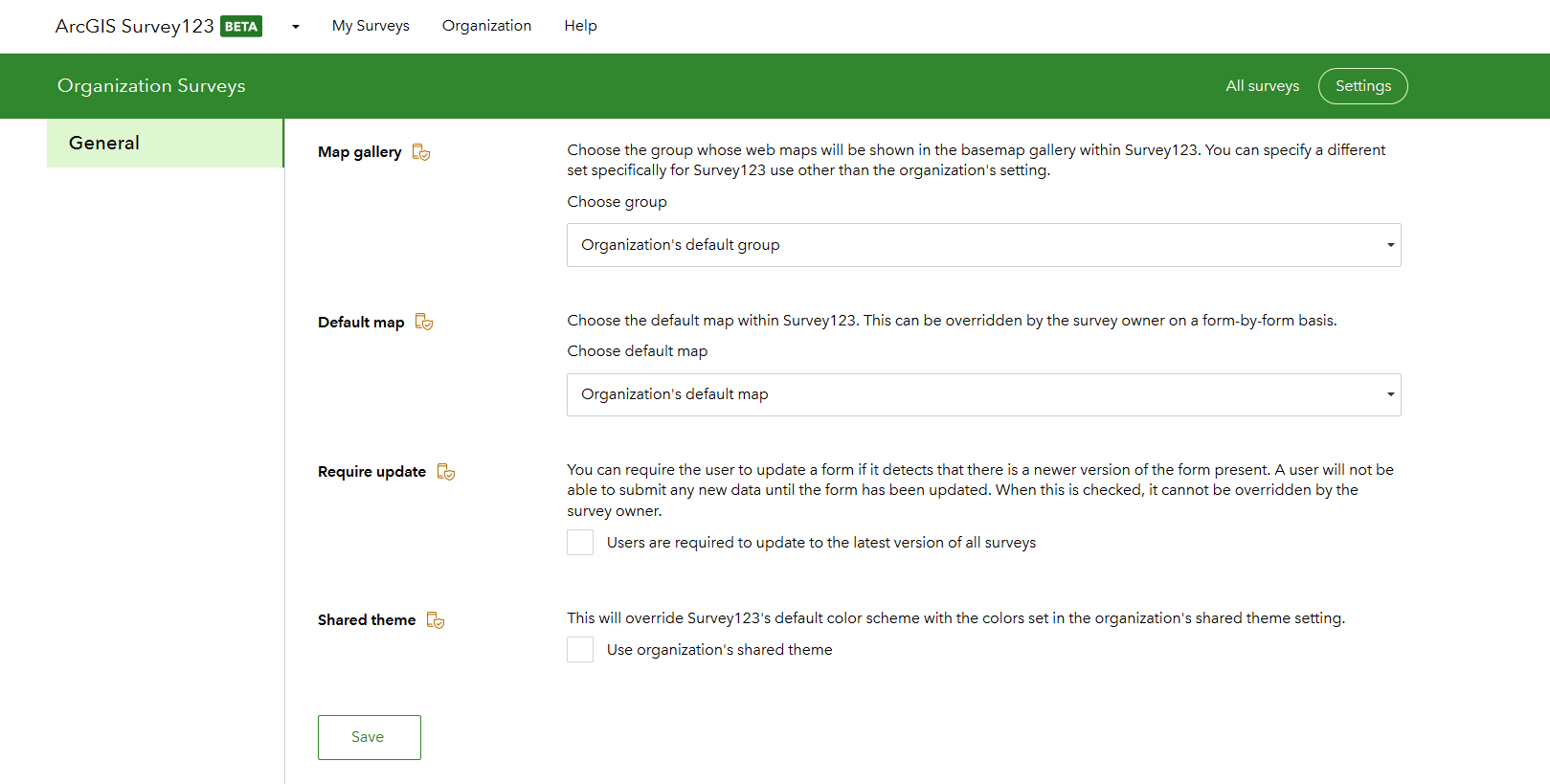 Summary reports
Do you wish to create a report template including a table for all records, or a selection set in your survey layer? Do you also want to add statistics for these records? Then it will be worth learning about the extended report template syntax. Find all the details here.
Custom JavaScript functions and pulldata()
This is for advanced XLSForm ninjas only. Invoke a custom JavaScript function using the pulldata() XLSForm function. This allows you to model complex logic in JavaScript syntax that would be difficult to express in XLSForms (or not even possible). You can check for duplicate values in repeats, lookup values from web services, perform point in polygon queries and much more.
While this capability has been available in the Early Adopter Program for quite some time, we are now aiming to release it in July 2020. We made quite a few enhancements in Survey123 Connect to help you test your JavaScript functions and also enabled execution of your own code in the Survey123 web app too. More info here.
Survey123 website installer
The Windows installer for the Survey123 website is virtually ready to go. This is for those of you who want to install the Survey123 website locally rather than having survey123.arcgis.com configured to work against your ArcGIS Enterprise. You can now test our release candidate before we officially make it available! Info here.
And much more...
There are many hidden gems available through the Early Adopter Program to test. You can find a more complete list of features for the Survey123 website here, and a list of other features for Connect and the field app here. You will find that the Beta builds also address many bug fixes and other minor, yet important, enhancements you have requested via Esri Technical Support and GeoNet.
You must be a registered user to add a comment. If you've already registered, sign in. Otherwise, register and sign in.