Mark as New

Mark as Read

Bookmark

Subscribe
Esri's User Conference is the world's largest GIS event – and this year it's going virtual! With so many opportunities to connect and learn with industry experts and peers, why not take the time to learn?
Registration
Check the Registration Details | 2020 Esri User Conference page for more info. Registration is quick and open to everyone. Once registered, you will be given access to the UC Live website. In UC Live, you will be able to watch the plenary, sessions, visit the Expo and connect with peers and Esri staff. Just like in San Diego, but from your home!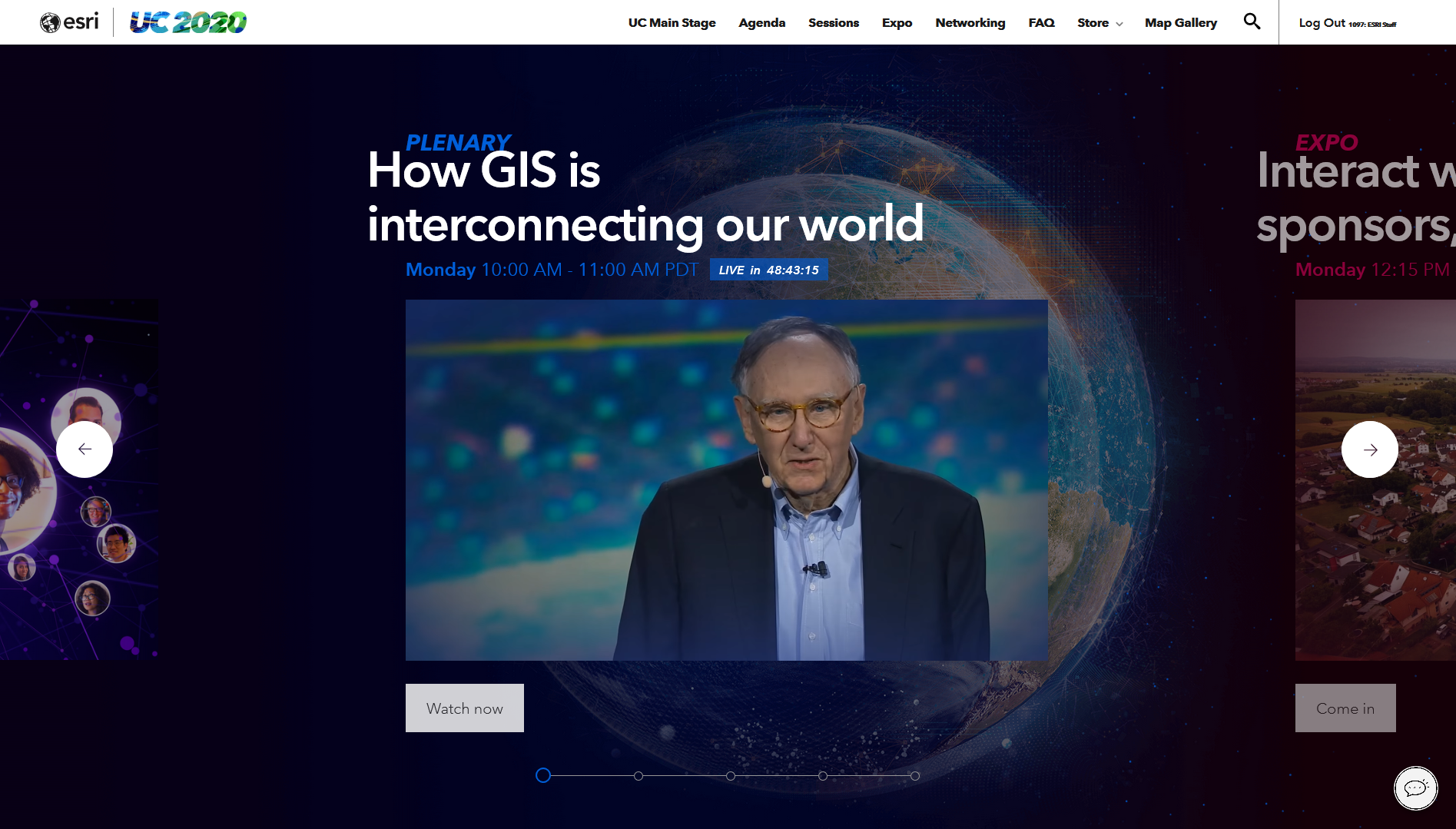 Here is a brief Survey123 guide to UC Live.
Sessions

Join sessions to learn about Survey123 product features and how to take advantage of them. Sessions are classified into Live Sessions and On Demand Sessions. Live Sessions are scheduled. You may want to add them to your agenda so you do not miss them. Live Sessions always include a Q&A section with the presenters at the end. On Demand sessions are made available for you to watch at any time during the conference. I suggest you add them to your agenda as well, because there are quite a few. If you have questions after watching the recordings, bring them to the team at the Virtual Esri Showcase.
Live Sessions (Watch only at scheduled times):
On Demand Sessions (Watch anytime during the conference):
By Esri:
By users like you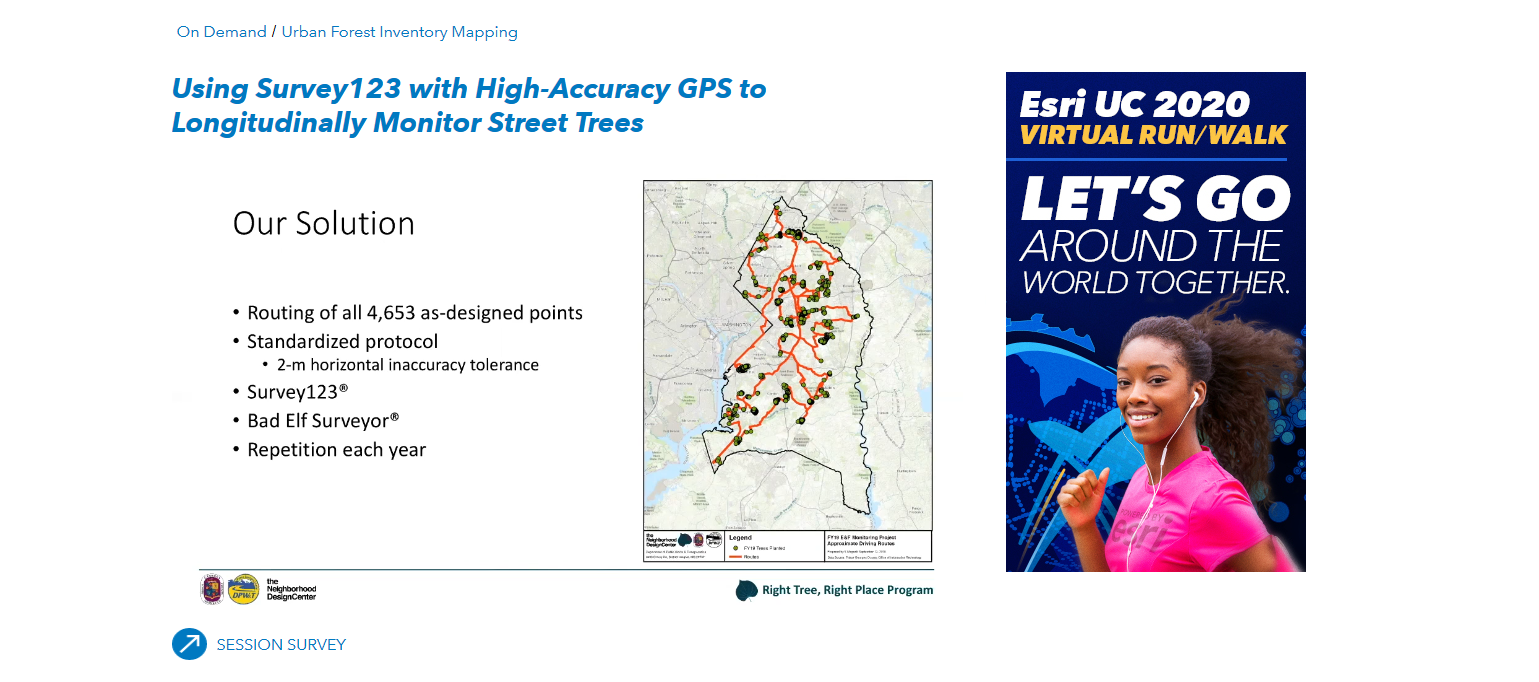 As you may know, Esri always publishes a selection of sessions for public access after the User Conference. However, do not count on that as not every session will be available beyond the conference. I suggest you make room in your calendar during the week to make sure you do not miss sessions. Schedule them at the beginning of the week, so you can take your questions to the team at the Esri Showcase.
Tip: Watch on demand sessions early so you can take your questions to the team at the Showcase.

                     
Networking

The UC Live wesbite includes a Networking tab. Use it to connect with other attendees and Esri staff. You can connect with the Survey123 team and schedule private chats to resolve your questions. Here is the list of Survey123 team members that will be available during the week. Generally speaking, all of us can take questions on any aspect of Survey123, but the table highlights areas of focus. The table also includes a link to the profile of each member in UC Live so you can find us more easily in UC Live. In case of doubt: simply email survey123@esri.com.
Brett Stokes
Survey123 Website Installer for ArcGIS Enterprise
English
Calvin Jung
Survey123 JS API, Webhooks
English, Chinese (Mandarin)
Ismael Chivite
Survey123 Website, Reports, Webhooks
English, Spanish
James Tedrick
Survey123 and ArcGIS Enterprise, XLSForms
English
Jim Moore
Survey123 Documentation, Field App

, Connect

English
Jody Zheng Liu
Survey123 Reports and Web App
Chinese (Mandarin), English
Marika Vertzonis
Survey123 Documentation, Learning Paths, GNSS
English, Greek
Philip Wilson
Survey123 Field App, Connect, XLSForms
English
Ruth Jiateng Xu
Survey123 Web Accessibility, Website and Web App
Chinese (Mandarin), English
Shwu-jing Jeng
Survey123 Internationalization, Localization
Chinese (Mandarin), English
Zhifang Wang
Survey123 Website, Web App, Reports
Chinese (Mandarin), English
The Survey123 Esri Showcase is a great place to network with other attendees and the Survey123 team. During the Esri Showcase hours, a chat room on Survey123 will be live. Join the conversation:
Monday, July 13, 2020 | 12:15 pm – 4:00 pm PDT
Tuesday, July 14, 2020 | 7:30 am – 9:40 am & 11:10 am – 3:50 pm PDT
Wednesday, July, 15, 2020 | 7:30 am – 9:40 am & 11:10 am – 3:50 pm PDT
Tip: Join the conversation at the Survey123 Esri Showcase and schedule private meetings to ask questions.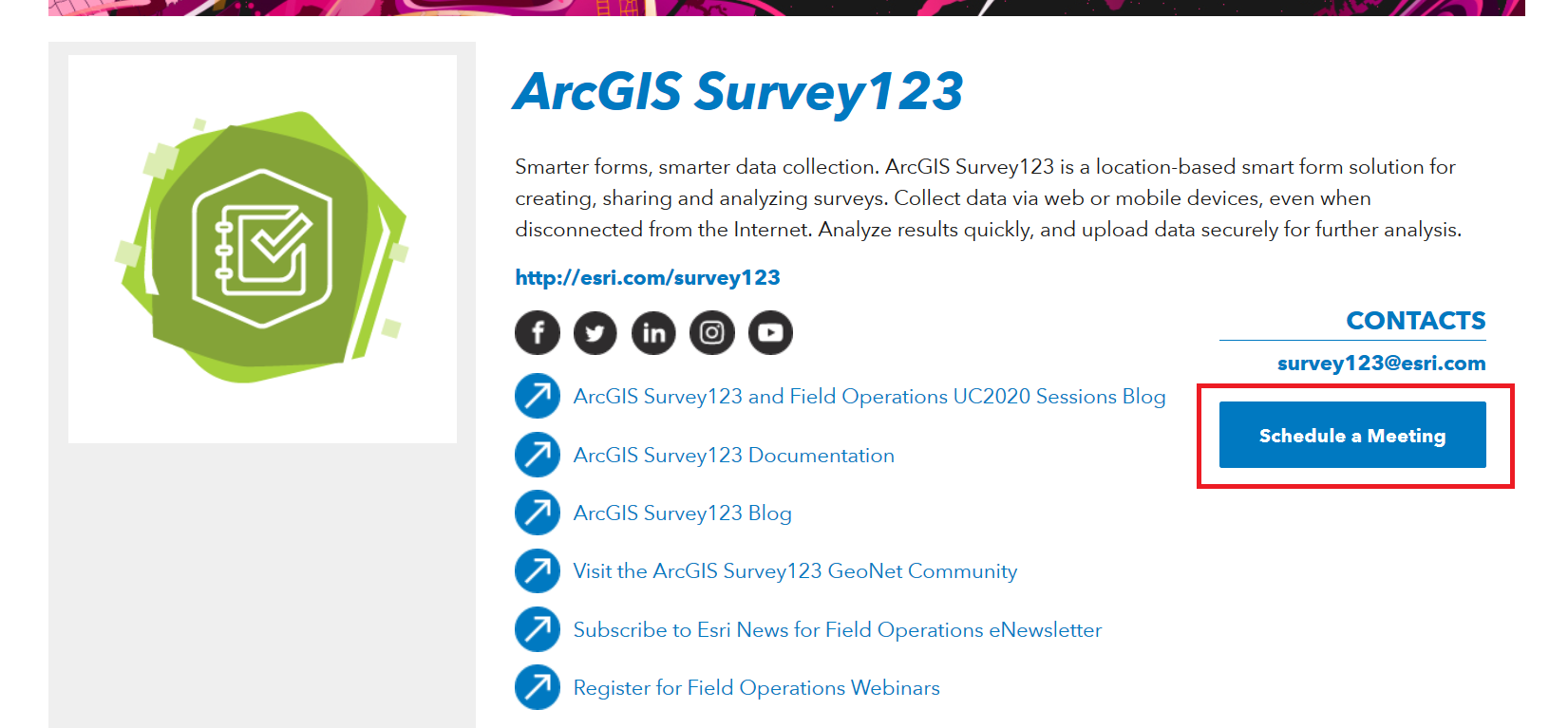 Exhibitor Expo
Last but not least, you can also virtually visit many of our UC Exhibitors. Visit the Expo to connect with Esri partners with expertise on implementing, customizing, integrating Survey123, plus hardware vendors to run or complement Survey123 capabilities.

We are looking forward to see you this week!
5 Comments
You must be a registered user to add a comment. If you've already registered, sign in. Otherwise, register and sign in.