Mark as New

Mark as Read

Bookmark

Subscribe
The United Nations Public Service Day (23rd June) is one to recognize and celebrate excellence in public service. The Public Service Awards delivered on this day reward the creative achievements and contributions of public service institutions that lead to a more effective and responsive public administration in countries worldwide.
Here is what this update brings to all of us:
Survey123 is no longer in Beta! That is right. With this update we commence our journey as a fully released product. We will continue our monthly updates as usual so we can be as responsive as possible to your requests. Please keep your feedback coming through the GeoNet group as well as our newly created Ideas site.
Survey123 Connect for ArcGIS enhancements:
When you choose to create a new survey in Connect, you now have more ways to get started. The Advanced and Basic templates are still there, and are perfect for when you know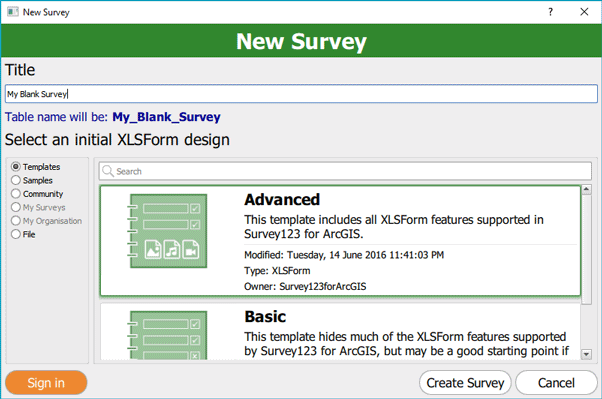 what questions you need to create, but you can also create a new survey from an existing one. There are two key categories -
Samples and Community. Samples highlight specific question types and recommended techniques. Community highlights real projects that relate to specific business needs. With this update, Connect will also let you start your survey design using existing surveys you may already have as a starting point.
In this update Connect also includes handy options for you to rename, delete and clone your surveys.
Create and use surveys from your web browser: Right from survey123.arcgis.com you can now design your own surveys by simply dragging and dropping questions.
While not every aspect of smart surveys is supported in this environment, you will find our new Quick Designer very easy to use and perfect for simple surveys. Surveys authored on the web can be easily shared with others by sending a link. With this link all you need to submit data is a web browser on your desktop or mobile device. Of course, if you want to take your surveys offline, you can also download them into your Survey123 field app! This short video highlights the basics of authoring and using surveys with our Quick Designer.
New reporting capabilities: We have greatly enhanced survey123.arcgis.com so you can easily analyze data submitted into your surveys. The Analyze tab now supports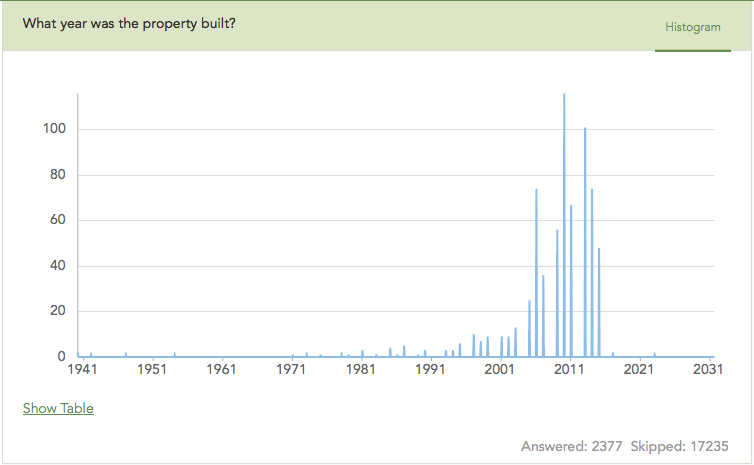 more question
types and includes very much improved charts. For example, in your single and multi-choice questions you can now sort choices in ascending and descending order; the map legend is more legible etc. You will also find a nice word cloud
for your text questions and support for repeats (related tables) in the Analyze tab.
The Data tab also brings some new features including more robust data exports as well as better interactivity with records in the table view.
Autocomplete support in the Survey123 file app: The autocomplete XLSForm appearance is now supported. It is ideal to simplify user input against very long choice lists in select_one type of questions. At this moment, autocomplete will filter elements in your list as you type the initial characters of the choice you are looking for.

Other: Traditional Chinese (Hong Kong), Traditional Chinese (Taiwan), Croatian and Serbian language support has been added to both the app and Connect. Several minor fixes.

Our next update is planned to be made available around July 22. Our focus for this upcoming release will be improved integration with Workforce for ArcGIS and fixes.
1 Comment
You must be a registered user to add a comment. If you've already registered, sign in. Otherwise, register and sign in.