Mark as New

Mark as Read

Bookmark

Subscribe
Integromat is a powerful tool for automating manual processes. With Integromat, you can easily connect Survey123 with many other apps and services. For example, you can configure a scenario in Integromat to perform an action immediately after data is submitted or edited via a Survey123 smart form: send an e-mail or an sms, copy the data into a spreadsheet or database, create an assignment in Workforce for ArcGIS or simply perform a reverse geocode to associate that address with the record that was just submitted.
Integromat includes well over 300 different out of the box 'integrations' (and growing), which you can combine visually in scenarios to automate specific tasks. You will find integrations for everything ranging from Office365 to Box, PayPal, SQLServer, Google Calendar, Apple Push Notifications, InvoiceNinja, Instagram, Google Cloud Print, and of course, Survey123 for ArcGIS!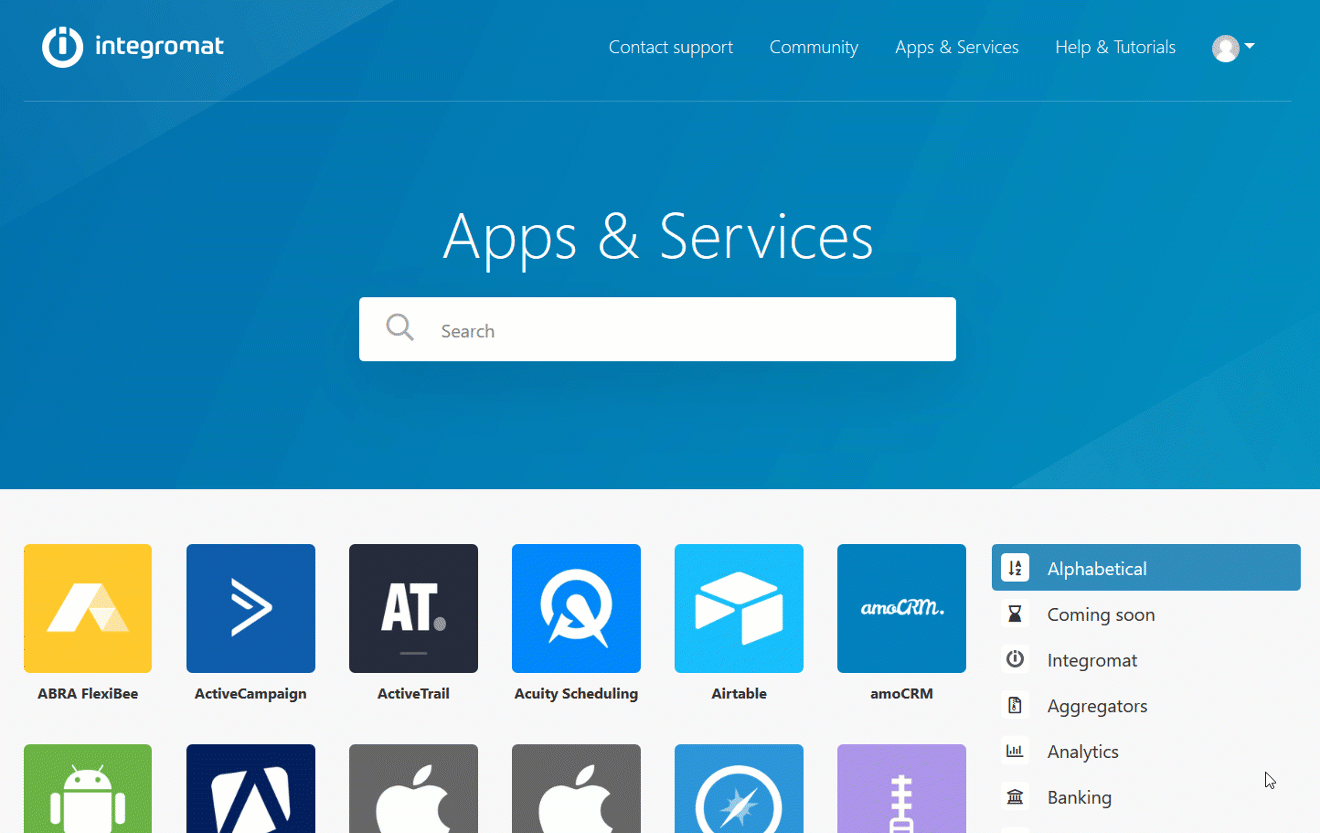 The basics, in four minutes
To get started with Survey123 and Integromat I strongly suggest you watch this four minute video-tutorial. It will give you a good overview of the whole thing, plus enough detail to follow along and build your first Integromat scenario.
You can create a free Integromat account to test the waters. Note that for production use you may want to upgrade to a paid subscription plan. There are multiple options, with increasing levels of support, operations, data transfer, etc.
Get a kick-start with a template
Also for starters, you can go with the different templates we have created. With them, you can automate common tasks with minimum effort. If you find a template that fits what you want to do, you can create a scenario out of it with a simple click. Integromat will guide you, step by step, so you can configure the template with your own Survey123 smart forms and other apps as appropriate.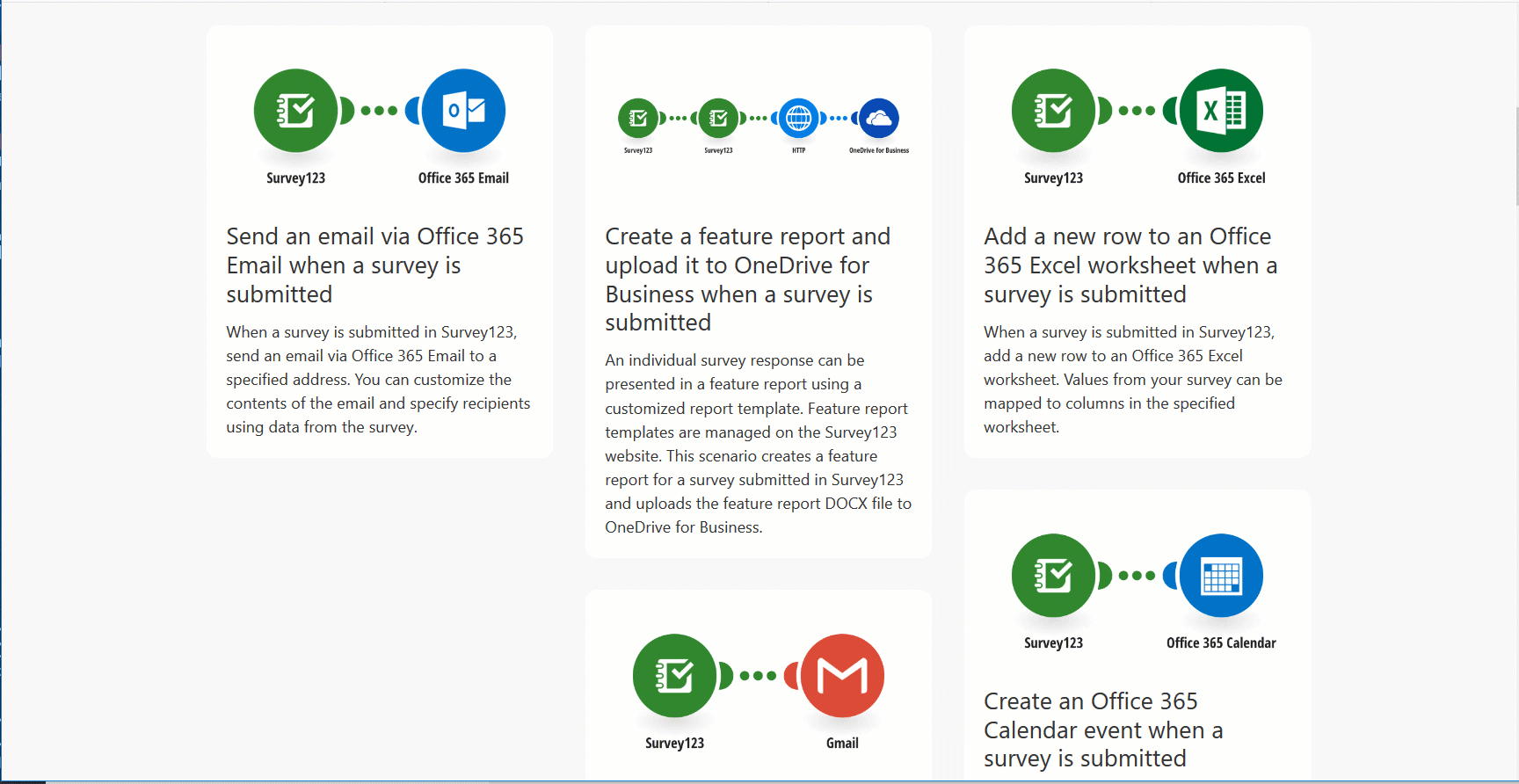 Once you bring a template into your own scenario, you can also extend it to do even more...
One hour for more details
Derek Law and Brandon Armstrong recently delivered a free Live Training Seminar focused on automating e-mail notifications. This seminar was recorded and features Integromat. This is good material as well if you are getting started. You will need to sign in with your Esri credentials to access the recording.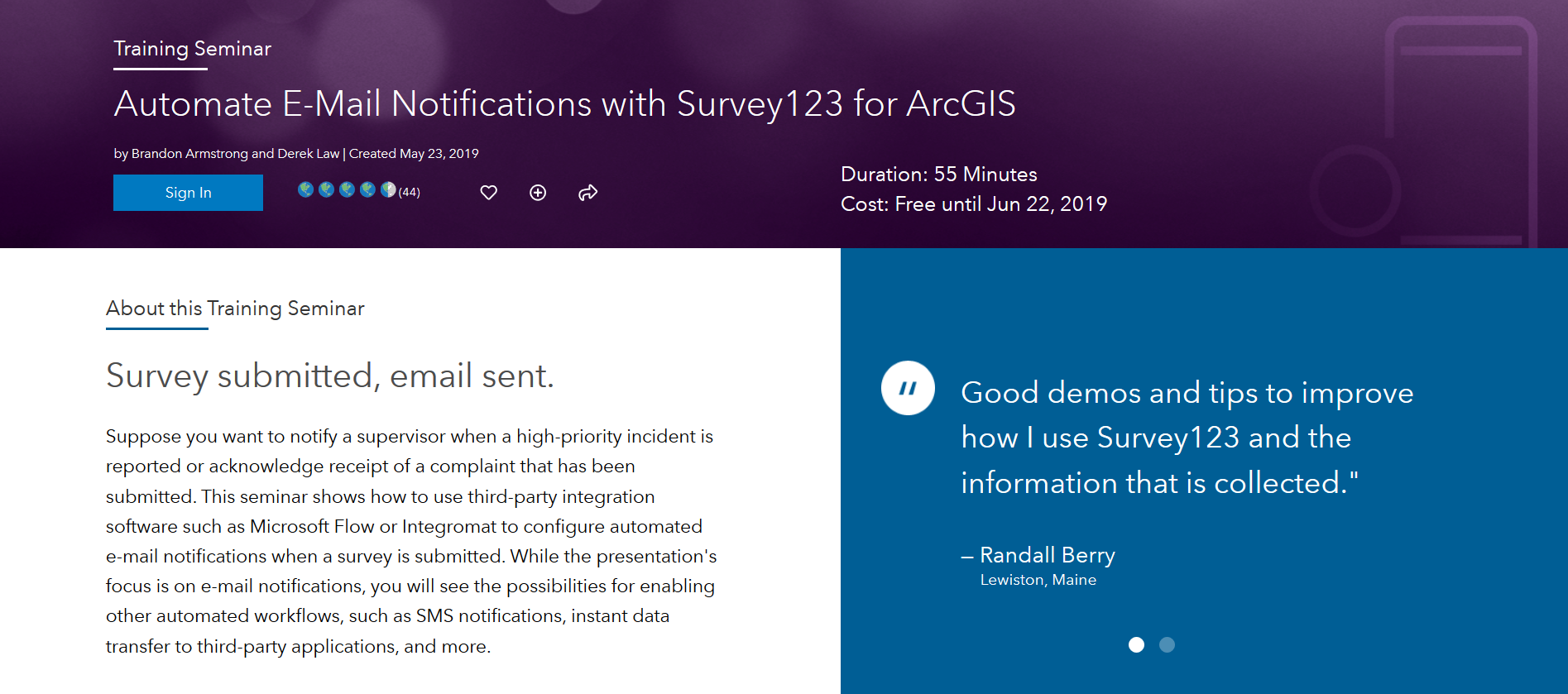 Integromat Help Center
To get the best of Survey123 and Integromat you need to know them both. As you work with Integromat and Survey123 you will realize soon that this is more than just about sending an e-mail notification when survey data is submitted. Integromat is actually a very powerful visual environment where you can model common business workflows. Integromat is also more than 300 out of the box integrations. It includes quite flexible options to control the flow of data and decisions within a scenario, with iterators, routers, filters and error handlers. You can also configure your scenarios to execute at regular intervals and perform operations in bulk.
What I like the most about Integromat is that it makes it possible to do lots of things for which in the past you would need programming skills. This makes more people, more productive. Having said this, if you have developer skills you will also be impressed with all the things you can do. The more you know, the better.
Spend some time roaming around the Integromat Help Center. Check out their video-tutorials and technical articles to learn new techniques. It will pay off!
Once you get on the basics, check out thehttps://community.esri.com/groups/survey123/blog/2019/06/04/survey123-tricks-of-the-trade-integromat blog post for additional info!
23 Comments
You must be a registered user to add a comment. If you've already registered, sign in. Otherwise, register and sign in.