New Contributor III
Mark as New

Bookmark

Subscribe

Mute
Hi all,
In my story map I am inserting a map already created on ArcGIS online which has a wms ocg image layers from the channel coastal observatory (CCO) using the url
https://maps.coastalmonitoring.org/ccoresources/wms/wms_esri.php
The image layers I can see sucessfully in the map viewer, but when I insert the map into story maps It does not load the image layers (however, I can see the image layer in the thumbnail)!
I have inserted the screenshot
Has anyone got any advice please?
Chris
2 Replies

New Contributor III
Mark as New

Bookmark

Subscribe

Mute
Hey Chris,
I tried adding the url to an AGOL web map and got the error in the screenshot below.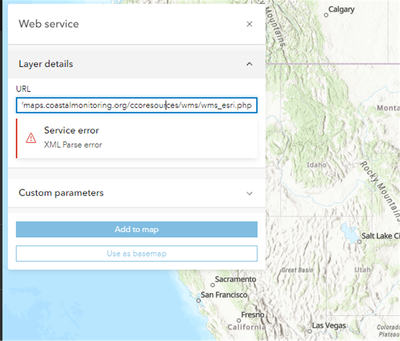 Maybe something changed on the service's end and that's why it's not loading? I also went to the CCO website and tried adding the path given for the arcmap instructions and that didn't work either. I also tried adding the service to Pro, and got a message that a username and password were required.
I might try reaching out to CCO directly if you are having this same issue.
Good luck!

New Contributor III
Mark as New

Bookmark

Subscribe

Mute
It's a very touchy service, the layer only workd if you load when in the classic map viewer and you choose Add+ and then Add layer from web...
There are clearly problems with the AGOL version. I use Arcmap 10.4.. so I imagine it's the same with Pro you will need to register for an account woth CCO (it's free). then you can sign in and use with Pro.
Also, I found that the CCO wms doesn't work with Firefox... but it does with Edge!