ArcGIS StoryMaps - How to recover a lost story
UPDATE: On Feb 16, 2023, ArcGIS StoryMaps (and StoryMaps.com) were updated to include an auto-recovery mode. The instructions below should no longer be needed in most cases, but are being retained for archival purposes.
=======================
If you've found yourself here, you've had the unfortunate experience of not being able to edit a StoryMap you've been working on. We apologize you're run into this issue, but you can follow the instructions below to recover your story, collection, or theme.
This process requires the ability to run notebooks. If your account does not have this ability, please use the other set of instructions at the bottom of this post
Click on "Download recovery file" link to download the JSON file for your story.
Open the link for this python notebook.
Log in to the ArcGIS Online account that owns the story that is not working.
Click Open Notebook at the top right.
Follow the instructions in the notebook to upload the recovery file back into your story.
Please note our team is working to make this recovery process even easier. In an upcoming release you'll be able to automatically recover your story within the story builder, which will eliminate the need to upload a recovery file. We are also working to find and eliminate the root cause of the issue that is causing lost stories.
Step 1: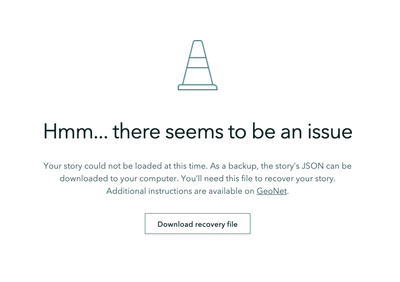 This article was updated Feb 15, 2023.
=================================
PREVIOUS VERSION (for reference only, please use the steps above to recover your story)
The steps to recover a story are as following:
Download Postman software from https://www.postman.com/downloads/.
Sign up to create an account on it.
Sign into https://storymaps.arcgis.com and open the story in which you are getting "Hmm..there seems to be an issue with your story" error.
Click on "Download recovery file" link to download the json file for your story.


Rename the downloaded json file to

draft.json

.

Get your username by clicking on "Your profile" menu on the top right.
Get the story id for your story from the browser URL.
For example, 358b83b5f776402fa726cfa316aa197c is the story id for this story. https://storymaps.arcgis.com/stories/358b83b5f776402fa726cfa316aa197c
8.Get the token id by opening Developer tools in your browser, go to Network tab and search for token or draft.json in the filter.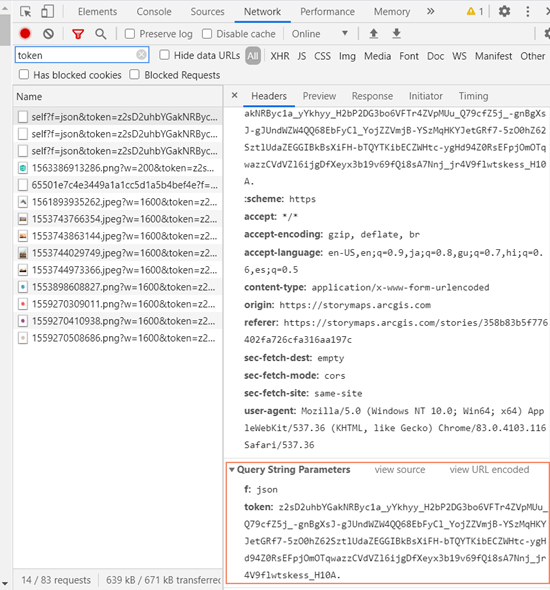 9. Open Postman
10. Change the request type to "POST" in the dropdown, and enter the following URL:
https://www.arcgis.com/sharing/rest/content/users/<username>/items/<storyid>/addResources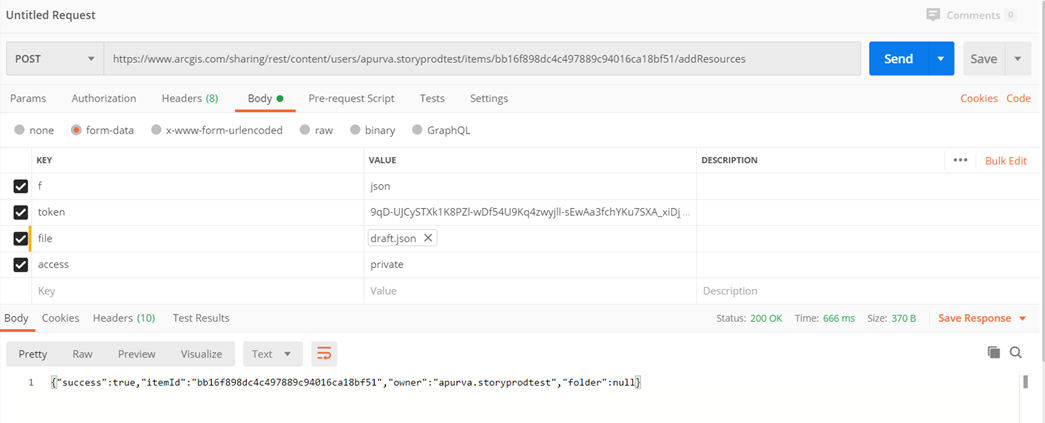 11. Replace <username> in the URL with your user name as mentioned in Step 6, <storyid> with your story id as mentioned in Step 7.
12. Go to Body tab, and add the following KEY VALUE pairs.
f json
token <token Id from step 8>
file upload draft.json downloaded from Step 4
access private
Get the token id from Step 8 and do not forget to copy entire token id including full stop as shown in the image in step 8.
After entering file name as KEY, go outside of that box, and then hover over in file box, it shows a dropdown with Text and File options, select File in that and then upload draft.json file in the value.
13. Click on 'Send'.
14. If you see "Success" message in the console as shown in the image in Step 10, then your story is recovered successfully and on reloading the tab, you should see last saved contents.