Occasional Contributor II
Mark as New

Bookmark

Subscribe

Mute

Email to a Friend
We have a trouble with the map being blurry in the Runtime for .NET 100.4. We did experience the same thing in 10.2.7 as well. I've attached a comparison between the MapView in 100.4 and from a WebBrowser control using the JS API. Javascript map on the right. Issue also occurs when both maps have the same scale (seems o be a slight mismatch in this picture)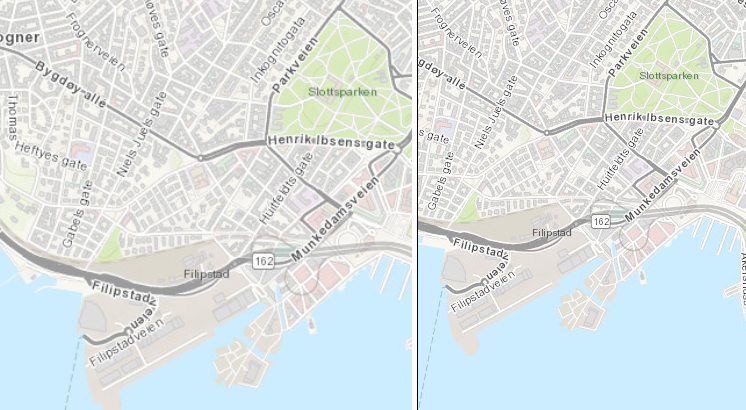 Is there anything I can do on my end to improve this?
1 Solution

Esri Frequent Contributor
Mark as New

Bookmark

Subscribe

Mute

Email to a Friend
One big difference between the JS API and the Runtime is that the JS API only allow you to zoom to very fixed scales that exactly matches the scale of each tile. This does have the benefit of avoiding having to stretch of squeeze the tiles, but at the same time limits you to a set of discrete scale levels. The Runtime doesn't restrict any scale, and thus tiles will often have to be slightly resampled to the current scale, and that can cause some blurriness.
The problem is much less noticeable on the newer high-dpi monitors though. If you're using WPF and you have a high-dpi monitor, make sure you opt in your app for high-dpi rendering in your, so the MapView control can take full advantage of it. This is especially a problem if you have multiple monitors and different DPI settings on each - by default WPF chooses the highest DPI of all screens to run at, but then scales it down on other monitors, which again causes blurriness (tutorial / sample here: WPF-Samples/PerMonitorDPI at master · Microsoft/WPF-Samples · GitHub ).
This is where the vector tile layers are much better to use, as they'll always render for whatever scale you're at, and render
6 Replies