Occasional Contributor III
Mark as New

Bookmark

Subscribe

Mute

Email to a Friend
Hi there,
I was wondering if anybody could please point me in the right direction relating to where/how to set a property that defines not to Disconnect for moving features.
We are trying to use the modify method from EditOperation() with no luck regarding not having disconnected features.
Basically I want to be able to do what can be done from this screenshot - Move the pole and everything else moves with it (eg. Disconnect network features for move is turned off).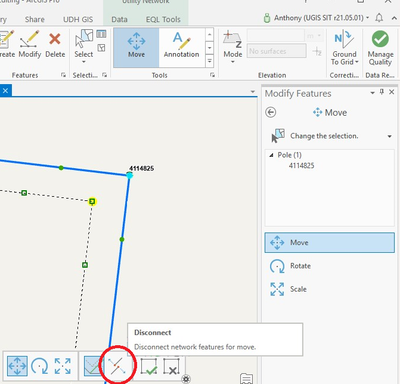 Thank you for any time with this
1 Solution

New Contributor II
Mark as New

Bookmark

Subscribe

Mute

Email to a Friend
Hi Anthony,
I understand the general workflows for why you would want to move features and have everything stay connected and/or maintain its relative position. What i'm still a little confused about is why you want to do this programmatically. The core tools such as Move and Edit Vertices allow you to update geometry locations and do the right things with connected or associated network features. We are looking to improve other edit tools such as reshape, extend/trim, etc., to also update connected and associated features in the next release.
If you do feel you need to do this programmatically, then the approach would be to do the following:
Determine the x,y (and possibly z) change resulting from the move
Perform a spatial query on each layer to find coincident features and apply the same change in the geometry to those features
Perform a search through the associations for any child feature (i.e., things inside a container that was moved, etc.) of anything that has moved and apply the same change in the geometry to those features
Hope that helps.
larry
4 Replies