New Contributor
Mark as New

Bookmark

Subscribe

Mute
Hi everyone,

I'm working with ArcPro 2.9 and I have the following problem:

I need to show in the Legend two Columns of the Attribute table. The short form of an Animal (lets say "B" for Bird) and the full name (in this case "Bird")
This two information are inside the Attribute table. So I wrote this in Symbology -> Expression Builder ->

$feature.SHORTFORM+ '\t' + $feature.FULLNAME

This works perfectly for the Layer itself, but the tabulation does not apear in the Legend.

I tryed everything but it's not working. Maybe it will not work with this tipe of code, but maybe someone knows an answer to this problem or a workaround solution.

Thank you!!
2 Replies

Esri Contributor
Mark as New

Bookmark

Subscribe

Mute
Have you tried using descriptions? The tab isn't designed to work in the legend, but by using descriptions you should be able to get the output you want. Descriptions are set at the layer level, and only apply to some symbology types, including unique values. They are displayed in the legend and you can use spacing and font customization to get different looks. This blog posts talks a little about formatting and spacing in legends: https://www.esri.com/arcgis-blog/products/arcgis-pro/mapping/tips-and-tricks-for-working-with-legend...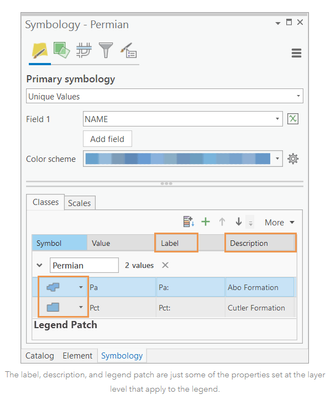 New Contributor
Mark as New

Bookmark

Subscribe

Mute
Thank you for your answer.
This is good to know, but the problem I face here is (as far ar I can tell) that I have to write the description down manually one by one.
Is there a way to insert the Description from the Attribute Table?