New Contributor III
Mark as New

Bookmark

Subscribe

Mute

Email to a Friend
Hi Guys,
I've recently installed the what3words geolocator onto ArcGIS Enterprise. On the what3words website (https://what3words.com/products/gis-extensions/) they mention being able to "Convert a layer of coordinates to 3 word addresses". And in https://developer.what3words.com/tools/gis-extensions/arcgis they state that in Pro you can "Batch convert between 3 word address and coordinates and coordinates and 3 word addresses using the Toolbox.". For the life of me I can't figure out where this tool is. I've searched Geonet and all the usual places for help but can't find anything.
So my question is where is this batch tool that keeps being mentioned? I don't what to do this manually!
Thanks!
James
1 Solution

New Contributor III
Mark as New

Bookmark

Subscribe

Mute

Email to a Friend
Hi @Robert_LeClair,
Thanks for this. The task I want to do is to give some private gates that don't have addresses some form of searchable location for emergency services. So rather than geocode an address I want to do the reverse, use the point locations of the gates to calc a w3w location. I tried every variant of the Reverse Geocode tool but Pro crashes everytime. I guess its not expecting a 3rd party locator.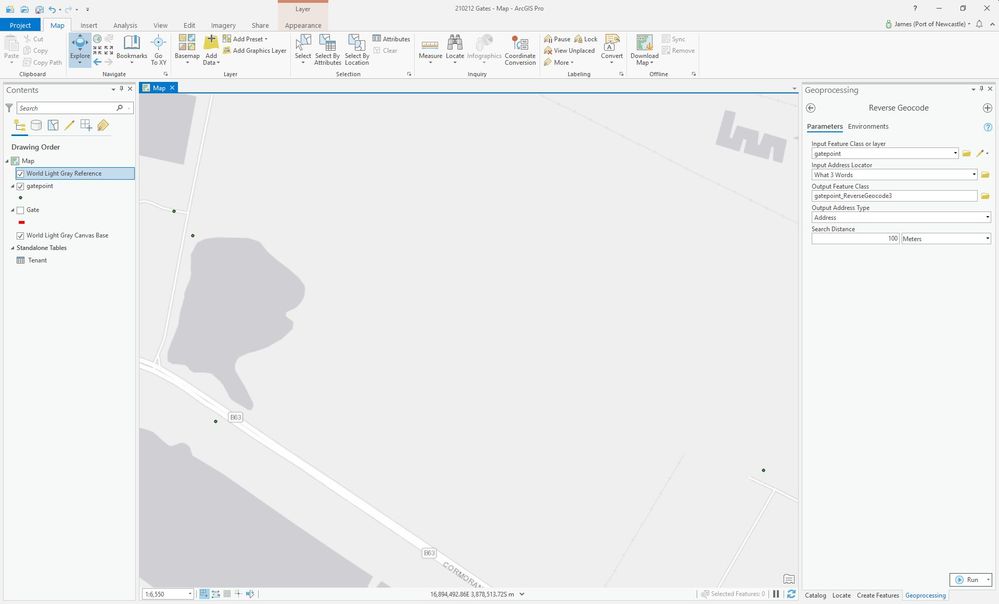 Gates to geocode
If I wanted to do this I think I'd have to code something up in Arcade or Python using a function in Field Calculator. Its probably quicker for me to do the 30 something gates manually. It'd be awesome if the tool in Pro worked as expected. Thanks for your help!
Cheers,
James
6 Replies