New Contributor III
Mark as New

Bookmark

Subscribe

Mute
2 Solutions

by
TomBole

Esri Regular Contributor
Mark as New

Bookmark

Subscribe

Mute
Hi Ming,
This is expected behavior. Fortunately, ArcGIS Pro allows you to control the visibility of labels for cases such as this. For example here is a map with a rotation of -5. As you can see there are grid label (and tick marks) that I may want to remove from the map (circled in red).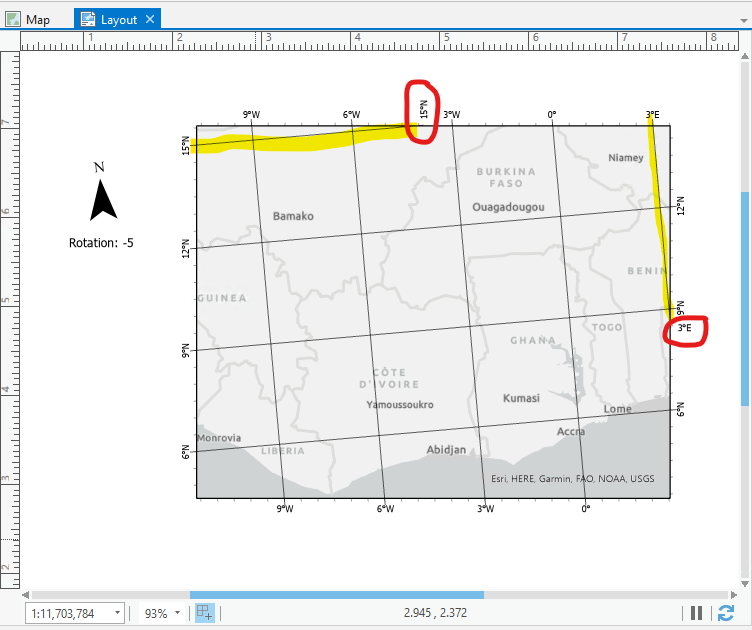 Step 1: Define the edges of your map frame
1. Open the Grid properties and in the Format Map Grid pane (Options tab)
2. Expand the group Edges and corners.
3. Check both checkboxes.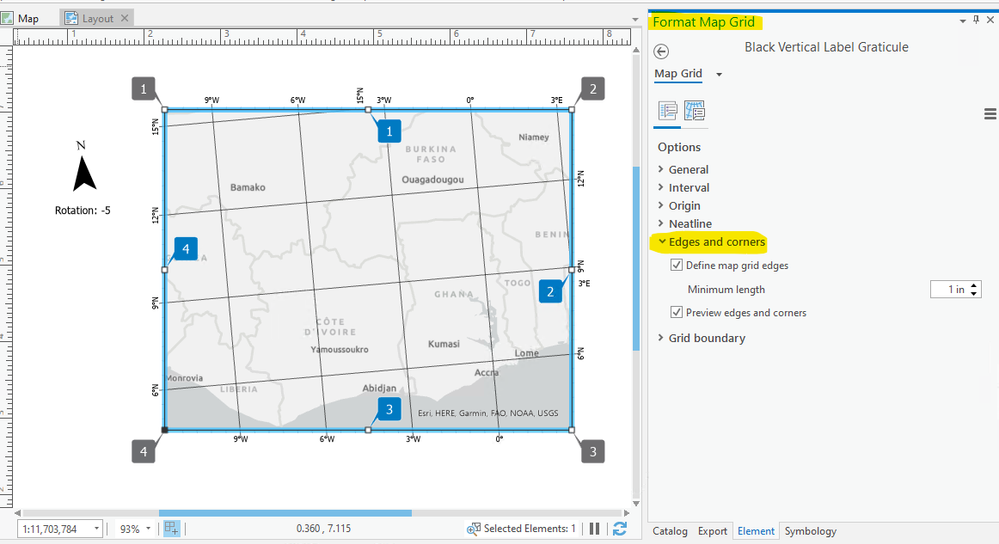 Notice that the edges and corners of the map frame are designated with numbers (edges in blue). These numbers can be used in deciding which labels (and tick marks) should be visible.
Step 2: Assign edge visibility
1. Click the Format Map Grid Components tab.
2. Select "Labels" from the Components list.
3. Expand the Visible group
4. Click Selected.
You should see the edge indicators on your map.
Now for the tricky part. The cardinal directions as indicated in the pane refer to the "intersection" of the gridline and the edge of map frame. In this example we want to remove the label (and tick mark) for "15 N". It is at the east end of its associated grid line (marked in yellow highlight at the top).
5. Click 1. We are now working with the visibility of "Labels" (the selected component) for edge "1".
Toggle the "East" checkbox. This will toggle off the visibility for edge 1 labels that are at the east end of the gridline.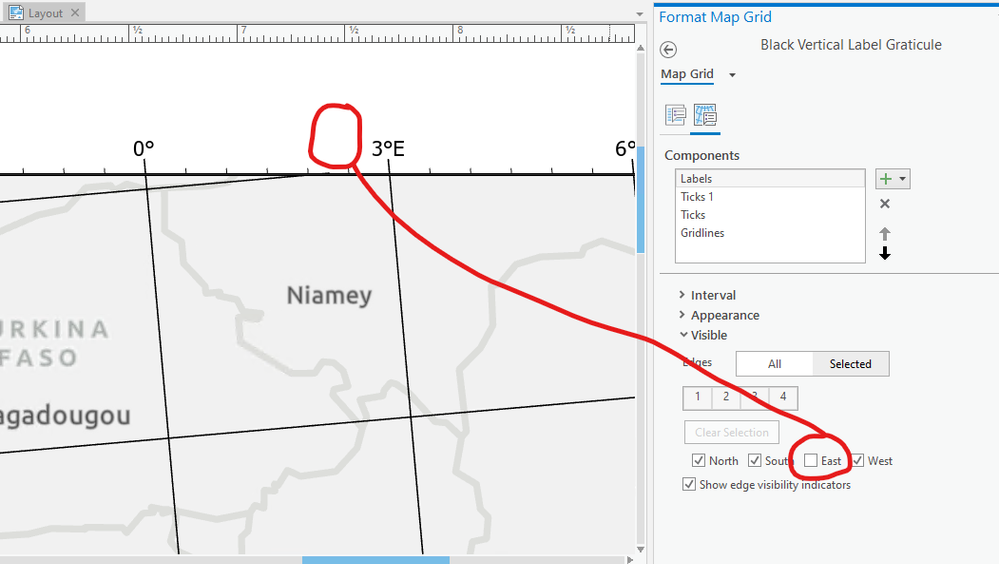 Note: There is an existing bug that incorrectly removed vertical placement for labels when the Selected button is clicked. You may need to reassign vertical placement to the edges. You can do this under the Appearance group (as shown below). Check the boxes back on for the vertical alignment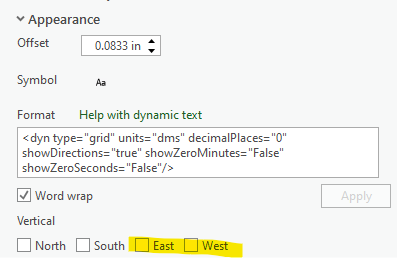 For more information please see the help topic Graticules.
Hope this helps,
Tom

by
TomBole

Esri Regular Contributor
Mark as New

Bookmark

Subscribe

Mute
Hi everyone,
We have added a new property to grid labels - "Draw parallel to grid edges" and to ticks - "Draw perpendicular to grid edges". These properties are new with ArcGIS Pro 2.9. I hope these properties will help with your workflows.
Tom
8 Replies