New Contributor II
Mark as New

Bookmark

Subscribe

Mute
Hi all,
Hope all is well. I'm quite new to Model Builder, and I have been attempting to automize some of the work we do within ArcGIS Pro. Attached is an example of 1 type of material in which we need to count within ArcPro. Currently 'Select by Attributes' is used to select each individual line (so 6 select by attribute queries ran for this one material) e.g.;
Where 'status' = 1
And 'height' = 8.5
And 'build_clas' = C1
Ideally the result would have a table or excel with the sum values from each line. I have also attached the model builder I made but cant figure out the last part, which is a table stating the sum values from each query. Is this possible, or could someone provide some advice material that might point me in the correct direction?
Best regards,
Liam.
1 Solution

Occasional Contributor III
Mark as New

Bookmark

Subscribe

Mute
Sample data I had laying around is points (table view below):

I wrote a quick model that takes the first 3 records above, writes them to another table and sums the "color" values for each row (I.E. Red, Yellow, etc).
1) First thing I did was create a blank table in my database (not a feature class) that has the format I want in my output (in my case just the starting table with a field to hold the sum of the "Color" values). This is the file I'm going to append the results of the "Select by Attributes" to and the table I'm going to "Calculate Field" against. Initially its empty.... see I just added a "ColorTotal" field to the schema of the input table, but yours can be more complex.

2) Next I wrote the sub-model. Instead of writing 6 selects I used a "MultiValue" iterator and used its %value% as input into my "Select Layer By Attribute" tool. The results of that tool I appended to the table I created in step one (TestCal in my case).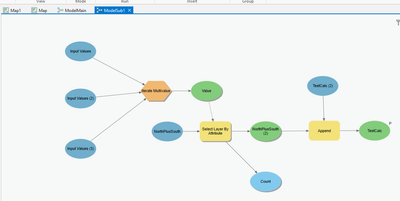 3) The last step was to create the "Main" model that uses the sub-model created in step 2. All this model does is uses the output of the sub model (the TestCalc table) as input into a "Calculate Field" tool.

The result being:

5 Replies