Regular Contributor
Mark as New

Bookmark

Subscribe

Mute
Hello. 1) I am trying to adjust the patch sizing in a layout legend in ArcGIS Pro. While I can for some of the Legend items, I cannot for one. I have a mix of feature classes and published map services. In the screen shot, I can modify the patches for the Surface Water features (which is sourced from a map service). I can also modify the patch sizes for the FEMA data, a feature class in our enterprise GDB. I cannot modify the patch sizes for the outdoor resource data. I have tried all that I can think of to adjust the patch width and height. When I increase or decrease the numbers, the legend box "blinks" with each click, but the patches stay the same size.
2) Also, I would like to prevent the "word wrap" in the FEMA legend item. The only that I could find that would work, was to decrease the font size, which then be at odds with the rest of the legend text.
Many thanks in advance, Jay

1 Solution

Esri Contributor
Mark as New

Bookmark

Subscribe

Mute
Ok, I think there might be some limitations or issues with the layer type that I want to investigate further. So I can't provide a full explanation at this moment, but in Pro 2.9 I was able to adjust the size as long as I had checked "Only show features visible in the map extent" for the legend item right below the sizing. Can you try that and see if it works?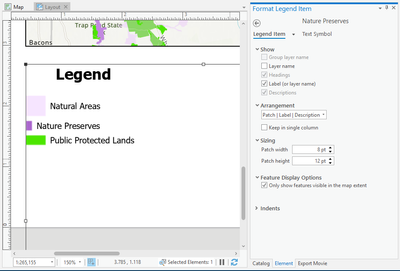 6 Replies