New Contributor II
Mark as New

Bookmark

Subscribe

Mute

Email to a Friend
Transfer Attribute Tool is now available but it seems not working or I maybe missing something.
It seems pretty straightforward but it simply not transferring although message "Attribute transfer completed"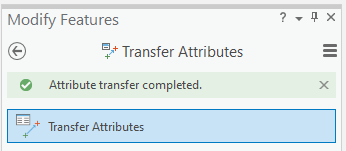 I have tried Saving Edits ( included when u save d project ), re-open the Table, re-open the project but nothing happens.
Went back to the good old ArcMap, done , straight away the open table view is updated .
2 Replies

New Contributor II
Mark as New

Bookmark

Subscribe

Mute

Email to a Friend
The tool has been implemented different than in ArcMap.
Once you have applied your Field Mapping Settings from the Editor Settings burger button, follow the informational notifications on the tool to select the source and target features on the map - https://pro.arcgis.com/en/pro-app/latest/help/editing/transfer-attributes-between-features.htm

Please note that to transfer geometry, you need to match the Shape fields of the source and target layers in Field Mapping - https://community.esri.com/t5/arcgis-pro-questions/geometry-transfer-in-arcgis-pro/m-p/1016232#M3593...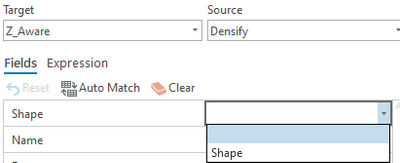 In ArcMap, this was implemented by checking the 'Transfer Geometry' box.
Esri has also added a Help button that links to online help resources on all Editing tools.

I hope this helps.
New Contributor
Mark as New

Bookmark

Subscribe

Mute

Email to a Friend
I am experiencing this same issue. I have all attributes linked correctly and follow the prompts as directed. It shows attribute transfer completed and still in my table no attributes have been transferred.