New Contributor III
Mark as New

Bookmark

Subscribe

Mute
I am creating new trade areas for my stores. I use a formula based on sales and distance from the tract to the store. Basically I create a list of the top tracts that add up to a certain distribution and turn a Weight_Flag = 1 for those tracts.
I then use those tracts to create a contiguous trade area shape. It works great except I get some outliers as you can see below. To keep it contiguous it selects a lot of tracts that should not be included in my trade area. Below the yellow dots are tract points that have been chosen (Weight_Flag = 1) and the Arrows highlight some of the outliers.
Is there a step or two I can take using a geoprocessing tool or something to find these outlier points and turn those flags = 0. Simple is best. We've adjust the formula a few times and we are happy with it. 98% of the trade areas look great. Just trying to perfect the last 20 or so without manual intervention.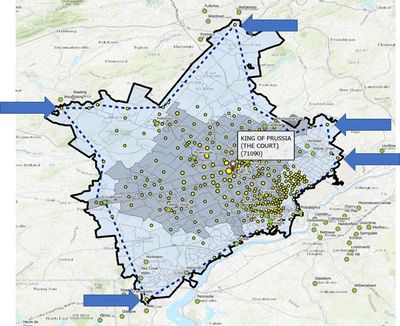 Pe
1 Solution

New Contributor II
Mark as New

Bookmark

Subscribe

Mute
I was able to successfully test the attached model using a point feature class called "rec_sites" of around 500 features. It iterates the feature selection of each Divloc value, runs the Spatial Outlier Detection tool on the subset of features, joins the output back to the original feature class, calculates the Weight_Flag field as the inverse of the Outlier_ID field, then removes the join. For each iteration, the output of the Spatial Outlier Detection tool is overwritten, so you only end up with a single Outliers feature class afterward that contains the final Divloc subset.
Hope this will give you a starting reference for building a similar model to achieve your goal.
7 Replies