Occasional Contributor III
Mark as New

Bookmark

Subscribe

Mute

Email to a Friend
Hey all,
I'm trying to relate a series of tables to each other.
Table A is a list of documents
Table B is these documents and which plots of land they're relevant to (a many:many relationship)
Table C is the plots of land
Table D is the actual shapes for the land. Some parcels have been merged (So Parcel X and Parcel Y are in the same shape).
My strategy is to use Table B as the relationship class between A and C, then to relate C and D.
Step 1 works, Step 2 is where this falls apart. I looked at it again and I got the relationships working correctly.(5/19/21)
Is there a way to streamline the process so when I click on record in Table A, I get taken to the appropriate records in Table D?
Ideally I'd be able to also click on the plots of land (Table D) and have the list of associated documents (Table A) appear in the pop-up as well.
If there are any tips or ideas, I'd really appreciate them.
Thank you!
1 Solution
Mark as New

Bookmark

Subscribe

Mute

Email to a Friend
Try selecting this option in all tables: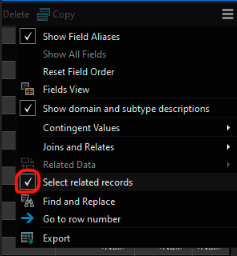 To show the relevant documents in the popup, you could use something like this expression:
// load the tables
var table_a = FeatureSetByName($datastore, "TableA")
var table_b = FeatureSetByName($datastore, "TableB")
// I think you don't need C
//var table_c = FeatureSetByName($datastore, "TableC")

// Get the document ids
var plot_id = $feature.PlotID
var filtered_b = Filter(table_b, "PlotID = @plot_id")
if(filtered_b == null || Count(filtered_b) == 0) {
  return "No documents"
}

var doc_ids = []
for(var b in filtered_b) {
  Push(doc_ids, b.DocumentID)
}

// get the document paths
var filtered_a = Filter(table_a, "DocumentID IN @doc_ids")
if(filtered_b == null || Count(filtered_b) == 0) {
  return "No documents"
}

var docs = []
for(var a in filtered_a) {
  Push(docs, a.DocumentPath)
}

// return paths
return Concatenate(docs, TextFormatting.NewLine)

Have a great day!
Johannes
2 Replies
Mark as New

Bookmark

Subscribe

Mute

Email to a Friend
Try selecting this option in all tables: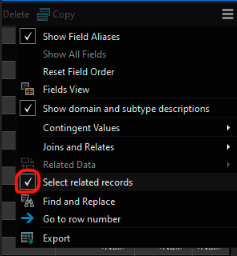 To show the relevant documents in the popup, you could use something like this expression:
// load the tables
var table_a = FeatureSetByName($datastore, "TableA")
var table_b = FeatureSetByName($datastore, "TableB")
// I think you don't need C
//var table_c = FeatureSetByName($datastore, "TableC")

// Get the document ids
var plot_id = $feature.PlotID
var filtered_b = Filter(table_b, "PlotID = @plot_id")
if(filtered_b == null || Count(filtered_b) == 0) {
  return "No documents"
}

var doc_ids = []
for(var b in filtered_b) {
  Push(doc_ids, b.DocumentID)
}

// get the document paths
var filtered_a = Filter(table_a, "DocumentID IN @doc_ids")
if(filtered_b == null || Count(filtered_b) == 0) {
  return "No documents"
}

var docs = []
for(var a in filtered_a) {
  Push(docs, a.DocumentPath)
}

// return paths
return Concatenate(docs, TextFormatting.NewLine)

Have a great day!
Johannes

Occasional Contributor III
Mark as New

Bookmark

Subscribe

Mute

Email to a Friend