Occasional Contributor II
Mark as New

Bookmark

Subscribe

Mute
Using Table to Table to export to a csv file adds the OID field even though it is not included in the model. It does the same thing when running it as a python script as well.
Model popup: (no OID field listed)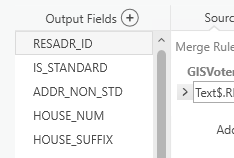 Python snippet: (no OID field listed before the first field)
Spoiler
# Process: Table To Table (Table To Table) (conversion)
with arcpy.EnvManager(qualifiedFieldNames=False):
GIS_Export_csv = arcpy.conversion.TableToTable(in_rows=GISVotersJune2021_2_, out_path=Redistricting2021, out_name="GIS_Export.csv", where_clause="", field_mapping="RESADR_ID \"RESADR_ID\" true true false 255 Text 0 0,First,#,GISVotersJune2021,Text$.RESADR_ID,0,255;IS_STANDARD....<snip>


Output csv with extra field:
Spoiler
OID_,RESADR_ID,IS_STANDARD,ADDR_NON_STD,HOUSE_NUM,HOUSE_SUFFIX,PRE_DIRECTION,STREET_NAME,STREET_TYPE,POST_DIRECTION,UNIT_TYPE,UNIT_NUM,CITY,STATE,ZIP_CODE,ZIP_PLUS,SPL_ID,PRECINCT,
How do I get rid of it? Right now I'm dumping the table into Excel (and not importing that field) which is a pain.
Thanks,
Tycho
1 Solution

by
jcarlson

MVP Honored Contributor
Mark as New

Bookmark

Subscribe

Mute
This sort of thing isn't specific to Pro, but when dealing with tabular datasets, the program adds an OID field to most outputs that don't have a built-in ID method like ObjectID / GlobalID.
I'm sure there's a good arcpy option, but when I'm exporting to text files, I like to use pandas to_csv, via the ArcGIS Python API. It may not be compatible with your larger script / model, but here's an example.
from arcgis.features import GeoAccessor

fl = GeoAccessor.from_featureclass('path/to/featureclass')

fl.to_csv('./output.csv', index=False)
By specifying index=False, no index is included in the output.
- Josh Carlson
Kendall County GIS
8 Replies