New Contributor II
Mark as New

Bookmark

Subscribe

Mute
Hello,
I have created a model which iterates through some feature layers, makes a select by location, and exports the selected features into a folder as shapefiles.
I have also created a second model which is in theory supposed to run the model above, and then iterate through the the shapefiles and add a new field to each featureclass.
At present, my model does not run the former model, and I do not understand how to edit the python code so that I can run both models sequentially.
I have attached screenshots of the former model (Model4) and latter model (Model3), and the python code exported from the latter model.
Model4: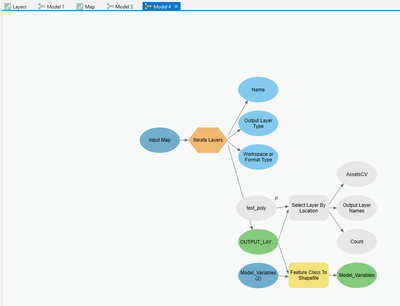 Model3: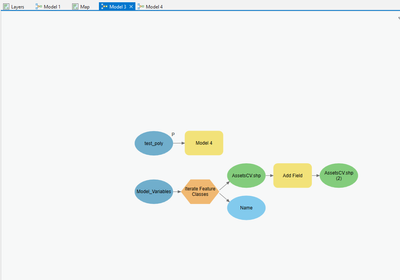 Python Export:
# -*- coding: utf-8 -*-
"""
Generated by ArcGIS ModelBuilder on : 2022-05-10 18:24:07
"""
import arcpy
import os

from Default.Model4 import Model4
from sys import argv
def FeatureClassGenerator(workspace, wild_card, feature_type, recursive) :
with arcpy.EnvManager(workspace = workspace):

dataset_list = [""]
if recursive:
datasets = arcpy.ListDatasets()
dataset_list.extend(datasets)

for dataset in dataset_list:
featureclasses = arcpy.ListFeatureClasses(wild_card, feature_type, dataset)
for fc in featureclasses:
yield os.path.join(workspace, dataset, fc), fc


def Model3(test_poly="test_poly"): # Model 3

# To allow overwriting outputs change overwriteOutput option to True.
arcpy.env.overwriteOutput = False

Model_Variables = "C:\\Users\\Scar\\Documents\\landCharges\\landCharges\\Model_Variables"

for AssetsCV_shp, Name in FeatureClassGenerator(Model_Variables, "", "", "NOT_RECURSIVE"):

# Process: Add Field (Add Field) (management)
AssetsCV_shp_2_ = arcpy.management.AddField(in_table=AssetsCV_shp, field_name="Reference", field_type="TEXT", field_precision=None, field_scale=None, field_length=100, field_alias="", field_is_nullable="NULLABLE", field_is_required="NON_REQUIRED", field_domain="")[0]

# Process: Model 4 (Model 4) (Default)
Model4(test_poly=test_poly)

if __name__ == '__main__':
# Global Environment settings
with arcpy.EnvManager(outputCoordinateSystem="PROJCS["British_National_Grid",GEOGCS["GCS_OSGB_1936",DATUM["D_OSGB_1936",SPHEROID["Airy_1830",6377563.396,299.3249646]],PRIMEM["Greenwich",0.0],UNIT["Degree",0.0174532925199433]],PROJECTION["Transverse_Mercator"],PARAMETER["False_Easting",400000.0],PARAMETER["False_Northing",-100000.0],PARAMETER["Central_Meridian",-2.0],PARAMETER["Scale_Factor",0.9996012717],PARAMETER["Latitude_Of_Origin",49.0],UNIT["Meter",1.0]]", scratchWorkspace=r"C:\Users\Scar\Documents\landCharges\landCharges\Default.gdb", workspace=r"C:\Users\Scar\Documents\landCharges\landCharges\Default.gdb"):
Model3(*argv[1:])
From what I understand from the python code, Model4 is being imported, but is not being called.I've had a look at the documentation for arcpy.EnvManager, but I haven't found any info on how an imported model is called as an argument within another.
Any help is much appreciated.
1 Solution

Occasional Contributor III
Mark as New

Bookmark

Subscribe

Mute
Here's the thing about iterators in Model Builder. They run everything in the model, regardless of where that tool or sub model is in relations to the Iterator. For example, my brain would tell me that since model 4 is running before the iterator is fired in Model 3, Model 4 would run once and then Model 3's iterator would loop as many times as necessary, but that is not the case. In your model 3, each time that iterator loops Model 4's iterator will loop.
One way to deal with this is don't use a sub model containing an iterator as an input into another model that contains an iterator. For example; have a third "Main" model that calls Model 4 and then calls Model 3 rather than calling Model 4 directly from model 3.
6 Replies