New Contributor II
Mark as New

Bookmark

Subscribe

Mute
Good afternoon,
I have a problem with the labels. Before posting I have been looking for related problems and I have not found any that dealt with this topic. My apologies if it exists and I haven't been able to find it.
The problem is that when the layers are grouped the labels are not displayed. If I extract the layer from the grouping, the labels are displayed. Any idea where the problem could be?
Thank you very much in advance.
2 Replies

by
AdrianWelsh

MVP Notable Contributor
Mark as New

Bookmark

Subscribe

Mute
Try clicking on the List By Labeling option at the top of the table of contents to make sure all your check boxes are checked on for labeling: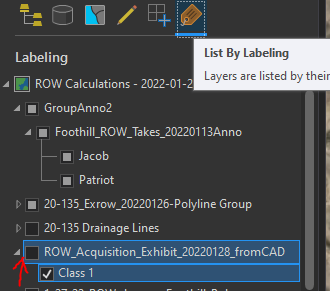 Also, check your zoom ranges (set to <None> if you don't want a zoom range) and check your expressions to make sure they are not limiting you:


New Contributor II
Mark as New

Bookmark

Subscribe

Mute
Hi Adrian,
thank you very much for your time. I forgot to add an important piece of information. It happens with map image layers. With feature labeling works fine. Anyway I tried your suggestion and when the map is loaded it shows the labels, but it I try to change it, just with opening the label menu the labels disappear. I do not know if it is a bug or it is supposed to work like that.
I have been searching the web and have not found anything related. If it was a bug I guess someone probably would have already said something about it.