New Contributor III
Mark as New

Bookmark

Subscribe

Mute

Email to a Friend
I'm trying to install Utility Solutions package but i don't see it in my list of Install Packages. My goal is to run the CCTV Manager tool.
I'm following the steps listed here to install Utility Solutions via Python Command line:
https://solutions.arcgis.com/shared/help/utility-solutions/get-started/faq.htm#anchor2
But when I run the command I get this error:
UnsatisfiableError: The following specifications were found to be in conflict:
- python 3.7*
- utilsolutions -> python >=3.6,<3.7.0a0
Use "conda info <package>" to see the dependencies for each package.
I have python version 3.7.9 installed. Apparently Utility Solutions only uses 3.6????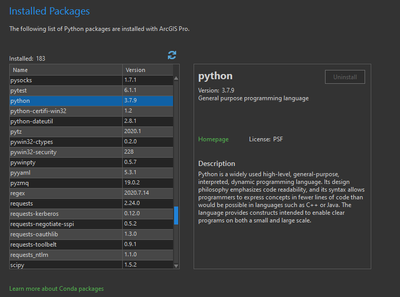 2 Replies

New Contributor
Mark as New

Bookmark

Subscribe

Mute

Email to a Friend
I'm not from support but have seen these cases where the package doesn't show up on the list. Have you confirmed you have the newest patch for your ArcGIS Pro install? Did you see it available at an earlier release/patch level? I had at least one instance where I upgraded, then had to down grade to get my Solutions to show the items I had previously had before upgrade, then wait until another patch was released, verify the package showed up, then upgrade again.

Not applicable
Mark as New

Bookmark

Subscribe

Mute

Email to a Friend
I'm having the same issue. I have updated to 2.7. I always cringe when I need to update because it always breaks the python tools. I opened 2.6 and it is still working on that version. I guess I need to downgrade.