New Contributor
Mark as New

Bookmark

Subscribe

Mute
Hello I'm still getting use to ArcGIS pro and one thing I'm having a real challenge with in Pro VS Arcmap v10.8 is presenting data in layout view.
I've got 1 frame showing a geographical area that covers the entire 8.5 by 11 page and then I've got a second smaller frame in an empty portion of the first frame where I want to show a close up a geographical area displayed in the first frame. However whatever I do in 1 frame is mimicked in the other frame, whatever data is in 1 frame must be displayed in the other frame, however I classify my labels in 1 frame is exactly how they appear in the second frame. I've classified my road network and only want to show the labels of 1 classification in 1 frame, and only show a different classification in the smaller frame, I don't want both classes of the road network to appear in both frames. This was very easy to do in Arcmap 10.8 as each frame acted completely independently from the other frame you could even use different basemaps for each frame, however in Pro it seems all frames are linked together (I've even tried the lock and unlock button on the frames).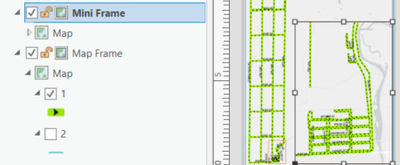 3 Replies

by
RhettZufelt

MVP Frequent Contributor
Mark as New

Bookmark

Subscribe

Mute
In ArcMap, you inserted a new Data Frame, and the data in the TOC of that frame is what shows in the new frame in the layout so could be configured differently.
In Pro, you insert a new Map and link the second Map Frame in the Layout to this other Map. (similar to ArcMap, but Map shows all the frames in the single TOC whereas Pro has a TOC for each map).
R_

Esri Contributor
Mark as New

Bookmark

Subscribe

Mute
Another approach besides creating a separate map like @RhettZufelt suggested above is to use scale-dependent layers inside the same map. Set the visibility range for the layer (or for individual label classes) so that the maps in your layout with different scales draw different sets of layers (or label classes).
Visibility ranges can be set for the layer from the Feature Layer tab on the ribbon: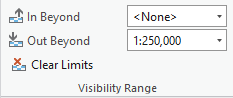 or in the layer's Properties panel, General tab.
Visibility ranges can be set for individual label classes on the Label Class pane or in the Labeling tab on the ribbon.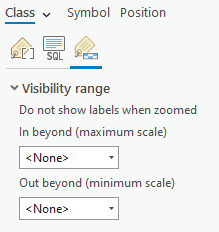 by
RhettZufelt

MVP Frequent Contributor
Mark as New

Bookmark

Subscribe

Mute
Good point. The main reason for the second map was the labelling.
Didn't think about scale dependent classes. Like the single map method better.
R_