New Contributor II
Mark as New

Bookmark

Subscribe

Mute

Email to a Friend
Hi All,
I am looking for a method to merge intersecting line segments over a large dataset. In figure 1, I used the method by first selecting individual line segments, followed by the tool merge (in the edit toolbar). This 'manual' approach is very time consuming and I guess a more automated approach would speed things up.
The first approach I was thinking about was using the dissolve tool. However, if I check 'Create multipart feature', all my segments are dissolved into one feature, see fig 2. And if I leave the 'Create multipart feature' unchecked, only the overlapping features are merged, but not the intersecting (tributary) lines. I also tried checking the 'Unsplit lines' box without success. Does anyone here have a recommendation?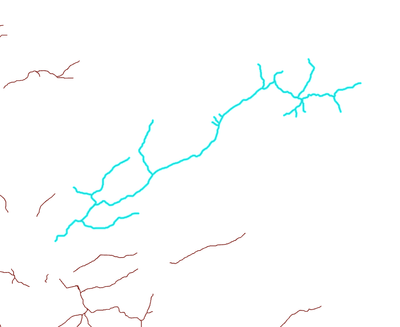 fig 1, manual approach by selecting the polygons, then use merge in the editor toolbar.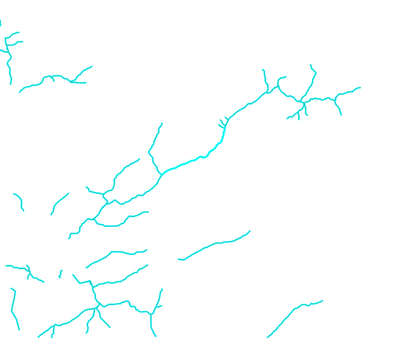 fig 2 dissolve with 'Create multipart feature' checked
1 Solution

MVP Esteemed Contributor
Mark as New

Bookmark

Subscribe

Mute

Email to a Friend
Here is a workaround that has worked for me.
1. Using the polyline layer, create a buffer (I created a 2 meter buffer with other parameters as default).
2. Dissolve the Buffer layer (Keep both "Create Multipart Features" and "Unsplit lines" unchecked).
3. Add a new field "ID" (Datetype:LONG) to the dissolved buffer layer, and transfer the "ObjectID" values to it.

4. Using Spatial Join, transfer the attributes of Dissolved Buffer polygons to the original Polyline Features.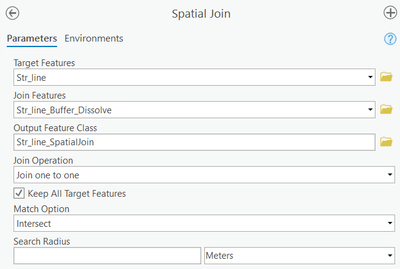 5. Now, Dissolve the Polyline Feature (Joined) based on the "ID" field (Check "Create Multipart Features").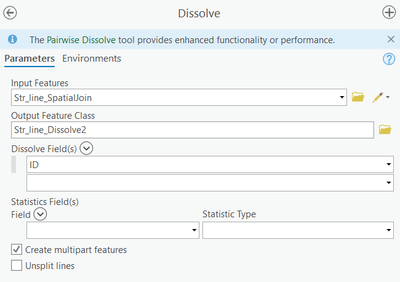 Think Location
8 Replies