New Contributor II
Mark as New

Bookmark

Subscribe

Mute
Hello. I am working on a Survey123 project for my local Park Service. We want to collect information about state historic resources. the data structure is a Site polygon layer, with a related point layer that shows the location of various buildings on the site. There is a lot of data already existing, and I want to build a new survey based on the data.
I am trying to relate the layers in ArcGIS Pro 2.9.1. I am following the instructions in this article "How To: Set up related tables for use in ArcGIS Collector or ArcGIS Field Maps (https://support.esri.com/en/technical-article/000015422)
I think I have followed the instructions exactly, but the relationship class doesn't seem to work. I thought setting up the relationship class should automatically assign the GlobalID from Sites to the GUID in Resources, but the GUID remains <null> and there is no relationship between the tables. I tried the procedure using both the point layer and the destination table and using a standalone table created from the point layer.
The common field between the two tables is Site_CRS, but I don't see how to use that information in the relationship class tool. I'm not sure what to try next.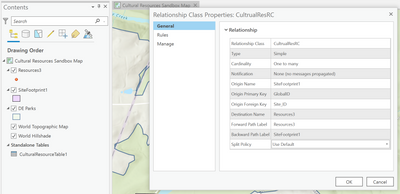 1 Solution
Occasional Contributor
Mark as New

Bookmark

Subscribe

Mute
You're on the right track, the Create relationship tool is the one you need. If Site_CRS is the common field, that is the one that should be used for the Origin Primary Key and Destination Primary Key fields.
If you want to use GUIDs instead, you need to create these yourself and make sure they match between the tables (you could join the sites to the point features and use field calculator to calculate the correct GUIDs).
I copied the input parameters from the create relationship class tool and filled in for you:
Origin Table

Your polygon feature class

Table View

Destination Table

Your point feature class

Table View

Output Relationship Class

Output relationship class

Relationship Class

Relationship Type

Either simple or composite based on the required behavior

String

Forward Path Label

A name to uniquely identify the relationship when navigating from the origin table to the destination table.

String

Backward Path label

A name to uniquely identify the relationship when navigating from the destination table to the origin table.

String

Message Direction

The direction in which messages are passed between the origin and destination tables. For example, in a relationship between poles and transformers, when the pole is deleted, it sends a message to its related transformer objects informing them it was deleted.

Forward (origin to destination)

—

Messages are passed from the origin to the destination table.

Backward (destination to origin)

—

Messages are passed from the destination to the origin table.

Both directions

—

Messages are passed from the origin to the destination table and from the destination to the origin table.

None (no messages propagated)

—

No messages passed. This is the default.

String

Cardinality

One to many (1:M)

—

Each row or feature in the origin table can be related to one or several rows or features in the destination table.

String

Relationship class is attributed

Unchecked—Indicates the relationship class will not have attributes. This is the default.

Boolean

Origin Primary Key

Your Site_CRS field in the polygon feature class (or its GlobalIDs if you created GUIDs in the point feature class)

String/GlobalID

Origin Foreign Key

Your Site_CRS field in the point feature class (or the new GUID field if you created GUIDs)

String/GUID
5 Replies