Not applicable
Mark as New

Bookmark

Subscribe

Mute
Hello,
I am trying to create a Unique ID using attribute rules.
The basic thing I am trying to figure out is to find the max number for field in the attribute table.
For example, looking at the column in the picture below.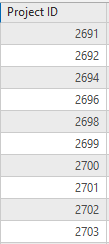 When creating a new feature, I would like to set a attribute rules will automatically create the next number.
Which in this case would be 2704.
Using the "NextSequenceValue" seems like the best way to go about but I am not sure how to use this function.
Does "inputSequenceName" work more like how Attribute Assistant works?
Thank you and let me know if any clarification is needed.
1 Solution

Esri Contributor
Mark as New

Bookmark

Subscribe

Mute
I wrote a blog post that walks you through getting a sequence and attribute rule up and running ( Configurable Facility ID Creation Using the Utility Network | POWER Engineers ). So in your case you'd create a database sequence call something like "sequence_foo" and set the sequence start id to 2705, then you'd set up an attribute rule on your project table on create so that new features get their project number set using the next value in "sequence_foo".
Let me know if I missed the mark on your question or if you want any more details. Good luck!
6 Replies