New Contributor II
Mark as New

Bookmark

Subscribe

Mute

Email to a Friend
I have run into an issue in the ArcGIS Pro Catalog Contents pane where feature classes are not shown. One has to select the folder or Feature Dataset and then view any feature classes (if present) in the main Catalog View section. This is very frustrating as it becomes very easy to miss data and is more cumbersome to manually search through a series of folders looking for a feature class. It also is a reduction in functionality from ArcCatalog (something which ESRI seems quite capable of doing). The issue is not present with .TIF files. I have only seen it with feature classes within a fGDB (the only kind of GDB we use), shapefiles, and tables. I noticed this issue first with version 2.4, but it has continued through version 2.7. The strange part is, when searching the same folders and fGDBs using the Catalog Pane (defaults to viewing on the right side of the window), the files and feature classes show up and feature datasets can be expanded just like in ArcCatalog, but there isn't a way to preview or look at metadata in that pane. I have taken a few screenshots to illustrate my issue. Anyone have any ideas?

ArcGIS Pro in fGDB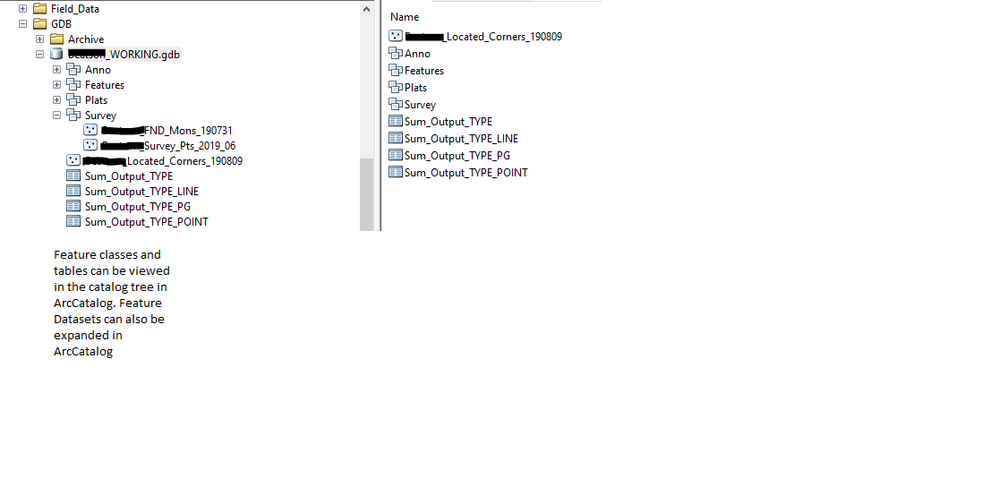 ArcCatalog, looking at the same fGDB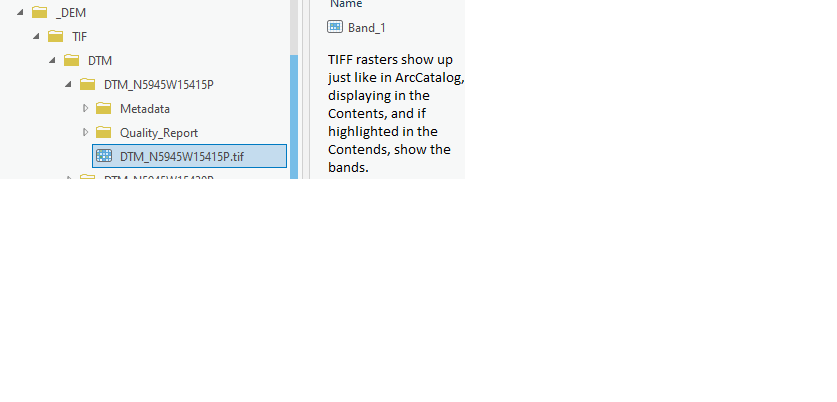 ArcGIS Pro looking at TIFF file, no issue here.
1 Solution

by
NaicongLi

Esri Contributor
Mark as New

Bookmark

Subscribe

Mute

Email to a Friend
Hi David,
I would like to point you to the ArcGIS Pro Ideas site https://community.esri.com/t5/arcgis-pro-ideas/idb-p/arcgis-pro-ideas for entering your request (and future requests). In fact, you may want to check out this existing idea: https://community.esri.com/t5/arcgis-pro-ideas/combine-catalog-view-and-catalog-pane/idi-p/938159 (including the comment from Jill). If you think it overlaps with your idea, you may want to vote it up by adding your kudo, as well as entering your comment there about your specific workflow case.
Just another side note about the "inconsistency" you mentioned in your last comment – that Pro is displaying raster datasets but not vector datasets in the Catalog view Contents pane. The reason is the same as I mentioned earlier - the criterion for whether something will be shown in the Contents pane is simply whether that something is considered a container or not in Pro. A raster dataset is considered a container in Pro - you can browse into it to see its content (the individual bands) in the Catalog view, and Pro allows you to perform operations on a specific band (e.g. adding it to a map). As a container, the raster dataset is therefore displayed in the Contents pane. Vector datesets such as shapefiles or feature classes, on the other hand, are not containers in Pro – you cannot browse into them in the Catalog view, so they are not being displayed in the Contents pane of Catalog view.
But I understand that the point above does not help you with the problem in your workflow, so again, please enter your request (and any future enhancement requests) to the ArcGIS Ideas site.
We appreciate your feedback, and hope to hear from you more on how to improve ArcGIS Pro.
6 Replies