New Contributor II
Mark as New

Bookmark

Subscribe

Mute

Email to a Friend
I need to explode all multi-part features in a feature class, editing in arcgis pro 2.2.3 (I want to avoid creating a new feature class using the multipart to singlepart‌).
Selecting all features, while the modify features > explode tool is active, still selects single-part features. If I run the tool on this selection, some features are removed, some multi-parts are not exploded and single-part features that it has selected as multi-part still appear as multi-part...
The same workflow in arcmap 10.5.1 worked perfectly, and I never had any of the issues described.
My solution at the moment is to run the multi-part to single-part tool, and use the output to select features containing the exploded layer before exploding.
Has anyone else experienced this? Is this a bug or am I doing something incorrectly to cause this?
Thanks in advance
1 Solution

by
Scott_Harris

Esri Regular Contributor
Mark as New

Bookmark

Subscribe

Mute

Email to a Friend
Hi Michael,
My best guess at what is going on...
You open the Explode tool and it asks you to make a selection: "Select one or more multipart features"
You select the multipart feature and click the Explode button.
At that point, the Explode tool is still active and you attempt to select one of exploded parts, but you can't.
This is because the Explode tool "Active select" can only select multipart features.
If you choose the Select tool from the Edit tab (not the Explode tool), are you then able to select the now singlepart feature?
After exploding a feature, the Explode "Active select" will remain active: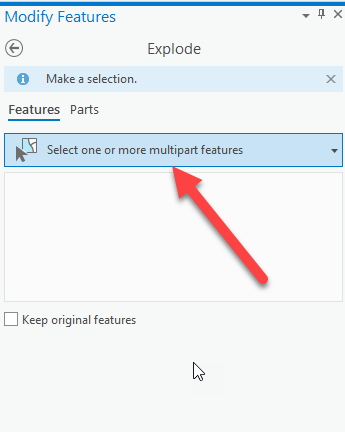 Click the Select tool so that is active:

Now the Explode "Active select" is no longer active and you should be able to select single part features again: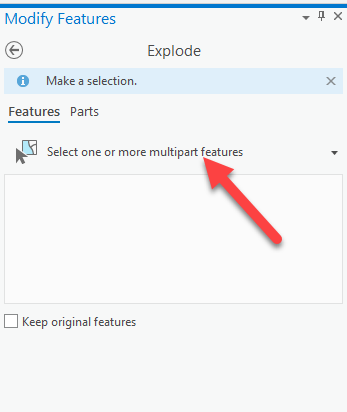 More info on Active select tools:
https://pro.arcgis.com/en/pro-app/help/editing/select-features-for-editing.htm#ESRI_SECTION1_7FD51A6...
Does this work for you?
Thanks!
Scott
5 Replies