New Contributor
Mark as New

Bookmark

Subscribe

Mute
Hi,
I am trying to make a python script that will do the equivalent to that of selecting a point feature editing this and creating "Points along line" with "Varying Distances".
This will give a menu like this one: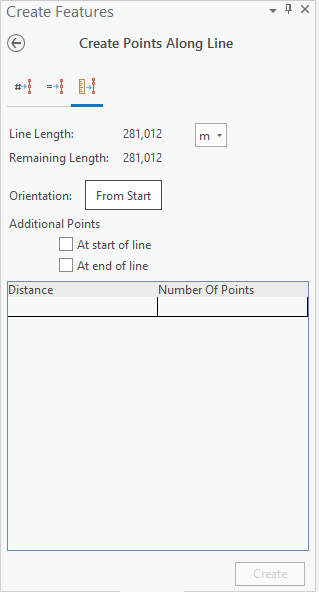 Where you will have to plot the distances manually. The next row will indicate the distance relative to the previous point.
I have a lot of points I'd like to plot in and therefore I want the stuff to go automatically.
So far I've had a look into using something like this:
>>> arcpy.GeneratePointsAlongLines_management(line2choose,"pntsAlongLine","DISTANCE",[10,20,10])
The list i've made at the end obviously won't work.
I've also had a look to the possibility of importing an excel file with the ID and Distance columns and creating points from this. If arcpy has a function to add a single point along a line with a specific distance from start I could do a loop and generate all the points from the imported table. So far I haven't found such a function.
Br,
Haakon Haugerud
7 Replies