New Contributor III
Mark as New

Bookmark

Subscribe

Mute
1 Solution
Mark as New

Bookmark

Subscribe

Mute
I've just used the formula to calculate area (A) from side length (a)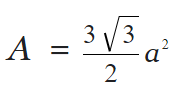 3 Replies
Mark as New

Bookmark

Subscribe

Mute
I've just used the formula to calculate area (A) from side length (a)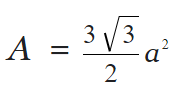 by
curtvprice

MVP Esteemed Contributor
Mark as New

Bookmark

Subscribe

Mute
This is a job for the Calculate Value tool in ModelBuilder! Create a Model variable Side of type Double, insert the Calculate Value tool and use this expression:
CalculateValue Expression:
(%Side%)**2 * (3 * (3**0.5))/2
Set Output Type to Double and connect it to the Generate Tessellation tool!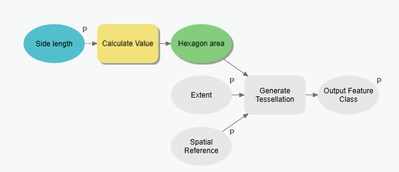 by
DanPatterson

MVP Esteemed Contributor
Mark as New

Bookmark

Subscribe

Mute
the key is the root 3 / 2 . It can be related to the maximal radius R and the minimal radius 'r' depending on which type of hexagon you are creating See the image on the page and decide which radius you need

... sort of retired...