New Contributor
Mark as New

Bookmark

Subscribe

Mute

Email to a Friend
I received a free ArcGIS Pro license due to my participation in the GIS Day activities organized by my organization last year. I've managed to setup everything fine in my machine to use the ArcGIS Pro license and every was going smoothly until today.
Our office is in the midst of migrating our domain and mine was done today where ArcGIS Pro is already installed in my new domain. But when I try to login, it gives out this error: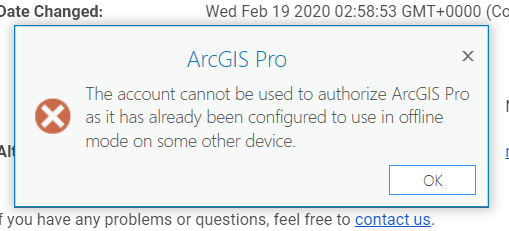 I have already uncheck the option to take the license offline and had done all the things to ensure that this problem does not occur. But it seems like it happens anyway. And I tried to get tech support but I can't request a case. My colleague mentioned it may due to the limitation of this license. Moreover, I was informed that the only way to fix this is to have the tech support revoke my license at their end and 'reassign' it back to me.
Anyone have any idea how I could fix this?
Thanks,
Efa
2 Replies

MVP Esteemed Contributor
Mark as New

Bookmark

Subscribe

Mute

Email to a Friend
Are you on the same machine that you took it offline on?
You have to check in/out on the same machine

Regular Contributor II
Mark as New

Bookmark

Subscribe

Mute

Email to a Friend
Efa: A similar incident happened to us this week. I am the Admin of our AGOL subscription. I keep the ArcGIS Pro offline license borrowing disabled for our organization. A colleague needed to go offline with Pro, so I enabled borrowing for 10 minutes while she checked out a license and then disable offline, once again. That seemed to work, at first. Then she was unable to open ArcGIS Pro, at all. She got this message when attempting to open Pro.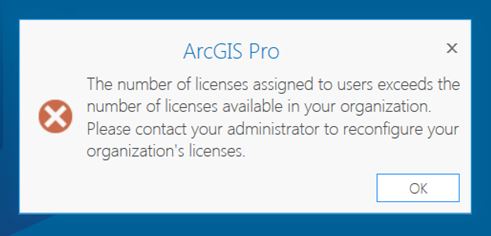 We ended up contacting Esri Support to have that Pro license reset. I'm not sure if I short-circuited something by allowing the license to be taken offline and then disabling that access in the AGOL admin dashboard or not.
I am uncertain how an AGOL administrator can keep the licenses locked down, that is, not available for Offline check-out as a standard practice for the organization, yet allow the occasional user to grab a license for a short time and then return it. It would be very nice if the Offline licensing allowed the administrator to set a time-out duration, so that the license would be automatically checked back in and the license on the user-end would stop working.
Joe