Not applicable
Mark as New

Bookmark

Subscribe

Mute

Email to a Friend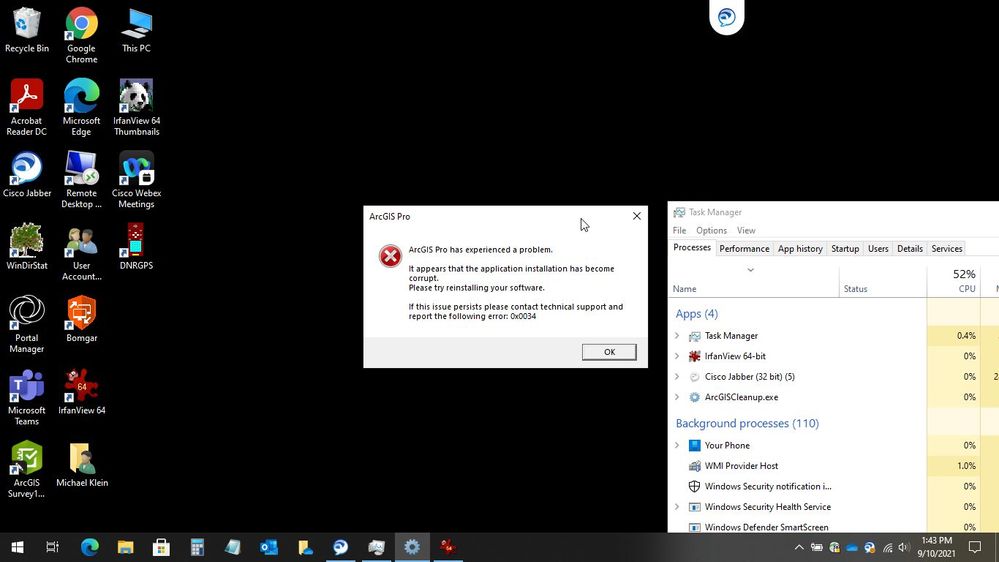 ArcGIS Pro 2.8 start up error
Has anyone seen this error dialog when starting ArcGIS Pro 2.8?
I get this 0x0034 error approximately 10% of the time when I start ArcGIS Pro 2.8. ESRI technical support and I worked through a Pro install and Pro started as expected. However the error dialog continues. I've checked the Pro minimum hardware requirements and I meet those.
A second attempt at starting Pro is usually successful and Pro does run as expected when it starts.
1 Reply

Not applicable
Mark as New

Bookmark

Subscribe

Mute

Email to a Friend
Hi! Local IT might be the best option as that error message suggests to me theres something incompatiable between the pro package installation and the local IT settings.
But one suggestion could be to go into your ArcGIS Pro settings and confirm that theres no funny business going on in there that might be causing Pro to have a conniption. Id recommend looking through your
Portals section (make sure theres no connections into the ether)
Licensing section (confirm licencing, and no issues with connections)
Options - confirm your packages are unpacking to a local drive (i have seen issues previously with when these standard locations are assigned to a network drive, and the network drive is disconnected or changed), confirm all your standard settings make sense
Python - confirm no issues here with any additional packages youve installed
add-in manager - confirm no issues with custom or additional installations
If this is only occurring when you open up a specific pro package, it may be linked to some configuration in that.
Thats about all I can think of at this point in time. Im not hopeful as I do believe its more related to your companies IT deployment