Occasional Contributor
Mark as New

Bookmark

Subscribe

Mute
Hello,
I have an enterprise deployed in Azure. 10.9. This Enterprise has a public URL. In azure VM do not have FQDN but when I checked to connect to portal using 7443 ports a "domain"was added (XXXXXXXXcx.internal.cloudapp.net) so I used that name to create portal json license
I am able to see my arcgis pro licenses in Enterprise
but when I try to connect to my license in Pro from outside azure network using my public url for Portal, I got this error.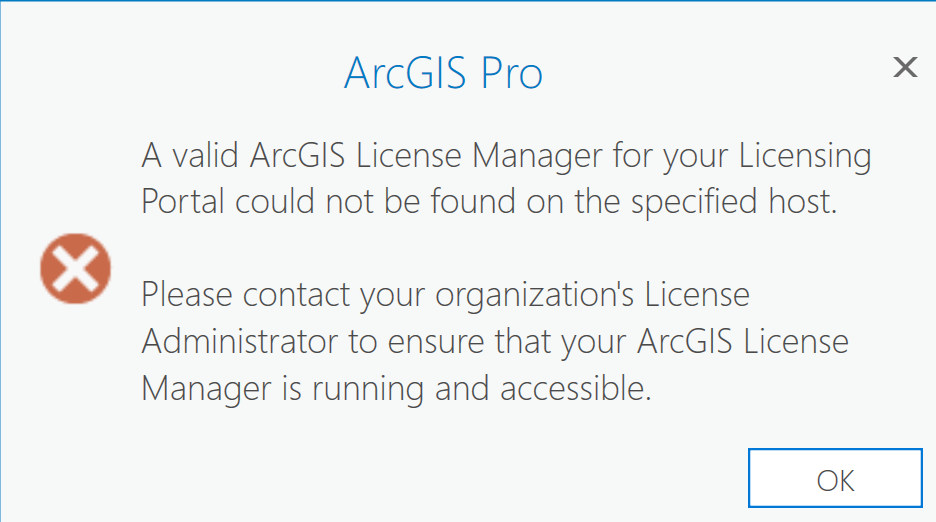 I want to use my pro license outside my organization using my public URL for this purpose with built in users and domain users.
I installed License manager in portal machine, in Azure there is no web server is a getway app to be used as "Web Server" in license manager y can see my licenses but I am not able to access I followed this instruction
https://enterprise.arcgis.com/en/portal/latest/administer/windows/configure-arcgis-pro-licenses.htm#...
What could be wrong?
Thanks,
DLL
1 Reply

Regular Contributor
Mark as New

Bookmark

Subscribe

Mute
ArcGIS Pro makes two separate checks when signing in. One is to the licensing portal to authenticate the user and the other is to the ArcGIS License Manager that is associated with the licensing portal to checkout an ArcGIS Pro license. The port that ArcGIS License Manager is using needs to be accessible to the computer running ArcGIS Pro and I am not sure how you would do that securely in a cloud environment.
In my case my servers are on-premises, my portal URL is publicly accessible through the internet, but my port for ArcGIS License Manager is not. I have to use a VPN to connect to my local network to use ArcGIS Pro when I am not at the office.
I posted an ArcGIS Idea over a year ago Have ArcGIS Pro get license from License Manager through ArcGIS Portal but there was no interest in it.
"Not all those who wander are lost" ~ Tolkien