New Contributor III
Mark as New

Bookmark

Subscribe

Mute
Hello Friends,
I am replicating a workflow that I have used successfully many times when my parcel fabric was in a file geodatabase. I've recently moved it to an enterprise database and published to my Enterprise server. Editing the parcel fabric via the portal connection is behaving differently, and I am not understanding why.
Hoping that somebody here might point me in the right direction to figure it out.
A survey has come in from the field in which some monuments' locations are now known. I set the "Adjustment Constraint" on those points to "XYZ constrained" on the theory that they should not move. I then attempted a least squares adjustment for the parcels in the immediate area. The results of that analysis are here: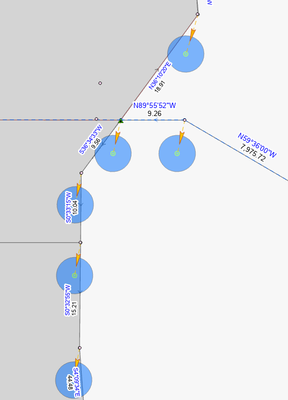 I'm only showing one area -- I marked a couple of points as XYZ Constrained. This analysis shows me that these monuments will move south, including the constrained point. What I expected to happen, based on previous examples, was that the unconstrained points to the north would move northward. At the very least, I expected the constrained points to stay put.
Another oddity that I did not expect: If I 'enable undo' on the parcel adjustment, the movements are committed and there is no undo option. Save and Discard on the edit pane are grayed out. I added the parcel fabric to my map document from the catalog panel, selecting the fabric from the Portal pick list.
I feel sure that there is a key concept that I'm missing here... perhaps related to who owns what in the database setup and publication process.
--gt
8 Replies