Regular Contributor
Mark as New

Bookmark

Subscribe

Mute
Hello. I have labels using an attribute text string that I would like to "wrap and stack" on my web map. In Pro, I am able to do this using Labeling Properties (see screen shot). I published the service but the labeling itself did not carry through to the service (maybe I missed a setting in the Share Web Layer?).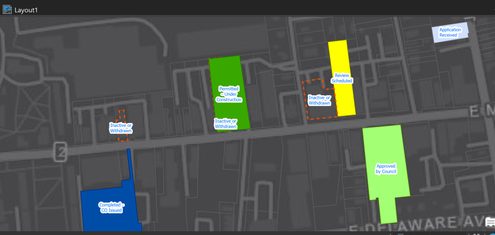 I read that classic map viewer does not support the idea but the new map viewer does (maybe)? I opened my web map in the new map viewer and poked around on the Label features dialogue but was not successful.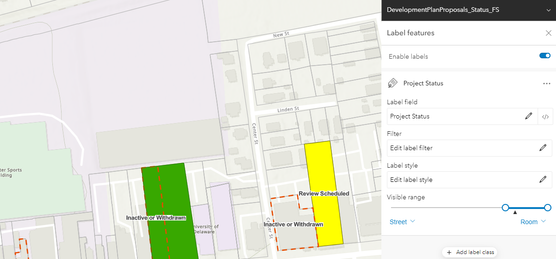 I am an Arcade beginner, but was wondering if there is an arcade function or code snippet available to do this, for example, wrap and stack the text string at the first space in the string? Thanks!
1 Solution

by
KenBuja

MVP Esteemed Contributor
Mark as New

Bookmark

Subscribe

Mute
What you'd have to do is split the string and rebuild it with the line breaks
var array = split($feature.yourField, " ");
var string;
for (var k in array){
    string += array[k] + TextFormatting.NewLine
}
return string;
A more complex code will put line breaks at certain lengths (the variable maxlength)
var array = split($feature.yourfield, " ");
var string;
var line = "";
var maxlength = 10;
for (var k in array){
    console(count(array[k]))
    if (count(array[k]) <= maxlength) {
      if (count(line) <= maxlength) {
          line += array[k] + " ";
          if (count(line) > maxlength) {
            string += line + TextFormatting.NewLine;
            line = "";
          }
      } 
    } else {
        if (count(line) > 0) { 
          string += line + TextFormatting.NewLine + array[k] + TextFormatting.NewLine;
          line = "";        
        } else {
            string += array[k] + TextFormatting.NewLine;
        }
    }
}
if (count(line) != 0) string += line;
return string;
12 Replies