by
XanderBakker

Esri Esteemed Contributor
Mark as New

Bookmark

Subscribe

Mute
I thought I would create a pop up and add a link to Google Streetmap for the location of the geometry. Although my my points were published in WGS 1984, when I retrieve the X Y properties of the Geometry in Arcade the coordinates are return in Web Mercator Auxiliary Sphere: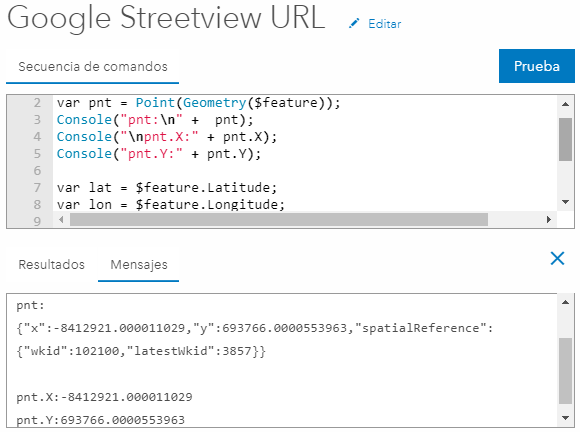 Since Arcade is based on JavaScript I hoped that some of the properties of Point objects in the JavaScript API would be available like getLatitude() and getLongitude():

However, these are not supported.

How can I get my Latitude and Longitude coordinates without storing them as attributes in my hosted featurelayer?
I just did a test with some sample code from the help and it throws an error since the spatialReference specified (4326) is different from the map: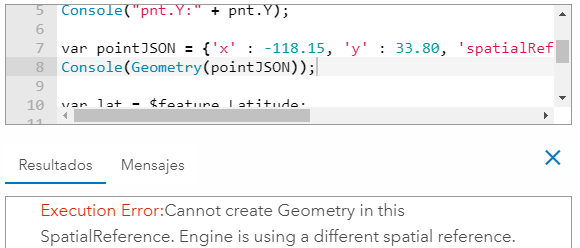 Looking at the REST endpoint I noticed that the spatial reference of my hosted feature layer is 102100 (Web Mercator Auxiliary Sphere). This happened probably since I added the content to ArcGIS Online using a ZIP with the fgdb in it. Question: When you add a fgdb from your computer is the spatial reference always projected to 102100?
I will publish the layer using Pro to see if anything will be different.
1 Solution

by
KellyGerrow

Esri Frequent Contributor
Mark as New

Bookmark

Subscribe

Mute
Hi Xander,
When you publish through the Add Item workflow, the service is published in the WGS 1984 Web Mercator (Auxiliary Sphere) coordinate system. If you want to set a different coordinate system, publish through ArcMap or ArcGIS Pro.
Arcade will always return geometry values in the spatial reference of the web map. In your example this is probably all web Mercator, but if you are looking for results in a different SR, ensure that your basemap is in the correct SR.
-Kelly
5 Replies