New Contributor II
Mark as New

Bookmark

Subscribe

Mute
Hello,
The OpenStreetMap_GCS_v2 tile set appears to show labels in their local language (the OSM `name` tag), instead of English (`name:en` if present).
This is a huge reason why my org cannot use the OSM tile set — we need English labels. We're currently using the other tile set (World_Basemap_GCS_v2), but it's not as detailed or current with OSM data.
Localized labels are only useful for localized maps tailored to people of that region. For a world map, it makes no sense to show more than one language. No one person can read all of the languages: chinese, hindi, icelandic, russian, ethiopian, etc., so everyone misses out to some degree.
With foreign characters, they can't be read or understood, and they can't be selected and copied from the map. And they can't be typed, so they can't be searched. It's really a bad situation.
One solution is to add multiple name properties in the vector tile data. Maybe _name_en and other "lingua franca" languages if you want to support internationalization with a single tileset. Or create a tileset per language. Or replicate what World_Basemap_GCS_v2 does --- make _name_global English and _name_local the local language.
Is this being considered?
3 Replies

by
jcarlson

MVP Honored Contributor
Mark as New

Bookmark

Subscribe

Mute
I would suggest this as an Idea. Currently the OSM vector tiles only expose _name, but adding localized languages would be very helpful to users, I would say.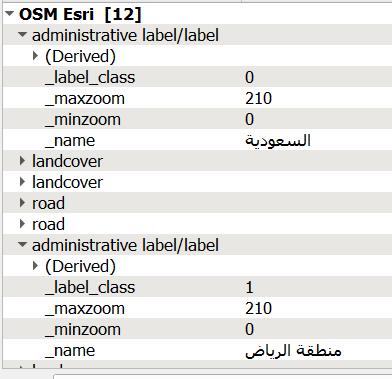 OSM follows ISO language codes, so the alternate names are name:en, name:fr, etc. Supposing these tags were added, it would be a simple find-and-replace in the style JSON.
If you post the idea, you'll get my vote!
- Josh Carlson
Kendall County GIS

New Contributor II
Mark as New

Bookmark

Subscribe

Mute
Hi Josh thanks for the response! You said "If you post the idea, you'll get my vote" --- where do I post the idea? I only know of these community forums.

by
jcarlson

MVP Honored Contributor
Mark as New

Bookmark

Subscribe

Mute