New Contributor II
Mark as New

Bookmark

Subscribe

Mute
Hello.
First time poster, just getting started with ArcGIS online.
I found a support page for exporting a layer I made using Map Notes as a KML file. [LINK]
I get as far as the page for my layer, but I can find no "Export Data button on the Overview tab" so I'm stuck.
(tried to upload ascreen shot of where I get stuck attached but only see a way to upload a video in this forum?)
I would appreciate any help you can provide.
Thanks,
Ken
2 Solutions

Not applicable
Mark as New

Bookmark

Subscribe

Mute
I think you may be on the right path here Ken.
Increase your portal role to ensure you have permissions to create Hosted Feature Layers, and then once you have the created feature layer in your contents you will see additional settings you can control within the portal item.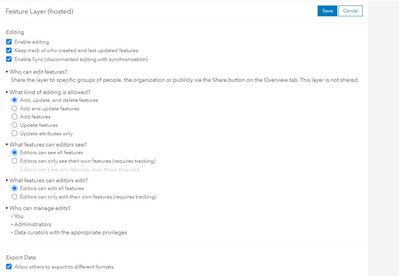 However in my current version of ArcGIS Portal i do not get an option to export to KML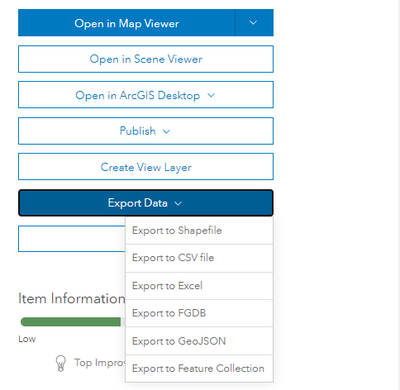 This may be linked to the version of ArcGIS enterprise I am running and/or AGOL may have slightly different options. If, after you increase your role privileges, you are still unable to export to KML. other options are available:
in web app builder you can use the 'Analysis' widget, tick the checkbox for 'extract data' and you can get the option to export to kml
in ArcGIS Pro/ArcMap you have the standard geoprocessing tools for conversion to KML
Let me know how you go 🙂

Not applicable
Mark as New

Bookmark

Subscribe

Mute
(First of all, many thanks to the support and assistance provided by this community).
Here is the solution to the original question:
- If you have a "free public account" for ArcGIS Online, you're out of luck. You can't export. I'm using a Learn ArcGIS account, which works. You may need to request a higher "role" from your organization's administrator to get access to the Publish and Export functions needed here.
- In your ArcGIS online map, create a layer called Map Notes from the drop-down menu.
- Add points and lines to your map as you wish. (Personally, no luck exporting Text or Areas.)
- Save your map.
- Save the Map Notes layer by clicking on the three dots for the layer (last item).
- Under the home arrow (top left of map screen) select "Content".
- Click on the Map Notes item in the Content window
- Click on the Publish button
- In the resulting window, click on the Export button, and choose the format you wish. I'm using KML (warning: ArcGIS actually exports KMZ rather than KML.)
- Download the file. If you chose KML or CSV, you'll get a .zip file which when unzipped gives you four files for each type of data: points, lines, areas, text.
- Import the files into whatever program you're using. Warning: the lines and points have no elevation data in them so you'll need to apply that in the program you're using.
I think that's it.
If someone more knowledgable about the workings of this forum than I can change this post to the "accepted solution" I think that would help others find this info in the future. @Anonymous User you might be able to do this as the author of the current "accepted solution".
Sincerely,
Ken
14 Replies