Occasional Contributor
Mark as New

Bookmark

Subscribe

Mute
I am a bit confused by the GeoAccessor documenation and miss the improvement made by using it instead of the the now deprecated SpatialDataFrame. I tried to move to the geoAccessor (gac function below) but what I get is not a dataframe or anything I can convert to a feature or set the geometry column etc.
Image below shows a pandas dataframe iterated using df.itertuples() (i.e. for mrow in df.itertuples():
What I want to do is convert this row data which was originally in a feature layer (has itsown geometry) from a pandas frame again to a feature (later on featureset) after performing other operations. How can I do that using the geoaccessor instead of using SpatialDataFrame (which was a lot more simpler)? Since the mrow is not geometry aware, I must set the geometry column, but I could not do that via the geoaccessor even though the documentation says I can. SpatialDataFrame gives me what I need but I want to move forward.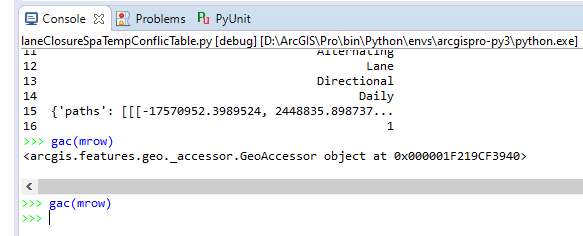 2 Replies
Not applicable
Mark as New

Bookmark

Subscribe

Mute

New Contributor
Mark as New

Bookmark

Subscribe

Mute
Iterating through large pandas dataFrame objects is generally slow. Pandas iteration beats the whole purpose of using DataFrame. It is an anti-pattern and is something you should only do when you have exhausted every other option. It is better look for a List Comprehensions , vectorized solution or DataFrame.apply() method.
Pandas DataFrame loop using list comprehension example
result = [(x, y,z) for x, y,z in zip(df['column_1'], df['column_2'],df['column_3'])]